You'll be going very fast or incredibly slow this week in the Daily Races, with no middle ground on offer.
Race A provides the slowness, by way of a six-lap race at Autodrome Lago Maggiore's short Center course in the FIAT 500F '68. There's a huge BOP multiplier in effect, but a 285% increase on nothing is still nothing, and your compact Italian car will be pushing out 49hp to the rear wheels. Sports Medium tires will ensure you only have two braking spots on the lap, and possibly a bit more grip than is comfortable for this car. It should make the grid start — with false start check — a point-and-squirt affair though.
There's race cars in the other two events, and the quicker cars will be in a slower race. That's the Gr.3 cars, which you'll use for a five-lap race of the Red Bull Ring. It's a straightforward sprint on a dry track, so you won't get to experience that track's new wet weather condition versions — though that may be for the best given normal online racing standards…
The final race uses the on-paper slower Gr.4 cars. However the race goes to the Tokyo Expressway, specifically the 4.54-mile East Outer Loop which is dominated by an enormous straight. Although tire wear and fuel consumption are both active for the race, it's unlikely that strategy will play much of a role — and fairly likely you'll see a lot of Lamborghinis.
All three races will run through to Monday, September 16.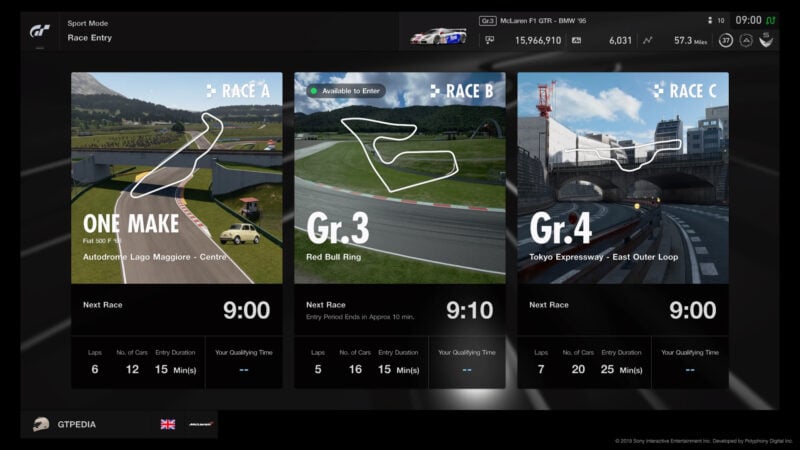 Race A
Track: Autodrome Lago Maggiore – Center, 6 laps
Car: FIAT 500F '68 – Provided Car
Tires: Sport Medium
Fuel use: Off
Tire use: Off
Race B
Track: Red Bull Ring, 5 laps
Car: Gr.3 – Garage Car
Tires: Racing Hard
Fuel use: Off
Tire use: Off
Race C
Track: Tokyo Expressway – East Outer Loop, 7 laps
Car: Gr.4 – Garage Car
Tires: Racing Hard
Fuel use: 3x
Tire use: 17x
Featured image courtesy of Volksauto.
More Posts On...