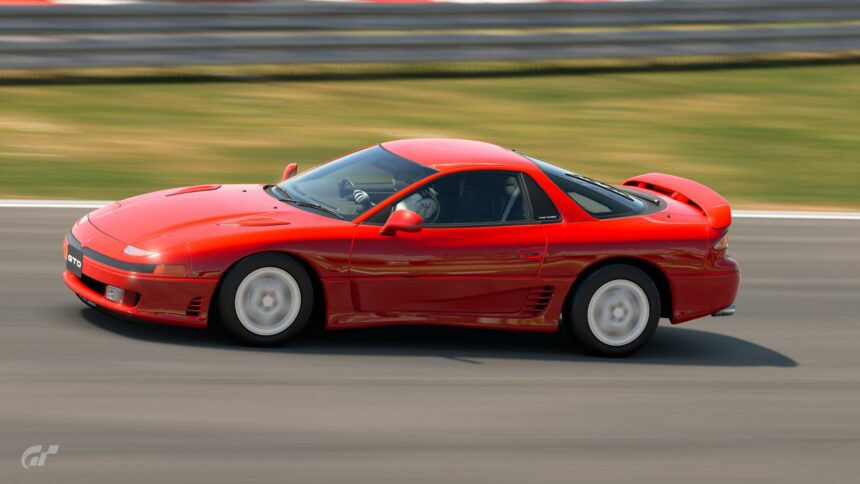 It's a week of one-makes in the GT Sport Daily Races over the next seven days. Two of the three races will feature homogeneous grids, with just a single vehicle type permitted.
Standing as odd man out is Race B. Here you've got a four-lap sprint race of the Brands Hatch Grand Prix circuit, with Gr.4 cars as the weapon of choice. It's a classic GT Sport combination — anyone who played the pre-launch Beta version of the game two years ago will be very familiar with this sort of line-up.
Race A will give some feelings of familiarity too. If you've been putting in the laps for the Time Trial over the last 11 days, you'll have got a handle on the Mitsubishi GTO. It appears again here as the one-make choice for our first Daily Race, a five-lap blast around Tsukuba Circuit. Watch out for that grid start though, as turn one will be a little more clustered than usual.
There's also a one-make race and a standing start in the longer Race C, but with a false start check just to add some spice. For this race you'll be able to pull your own Honda S2000 from your garage, complete with chosen livery (no bonus points for replicating Suki's car from 2 Fast 2 Furious). It's seven laps of Suzuka Circuit, and though fuel and tire use are in effect the multipliers are so low it won't require any pit strategy.
All three races will run through to Monday, September 30, when we'll get a new set of three for the week.
Race A
Track: Tsukuba Circuit, 5 laps
Car: Mitsubishi GTO Twin Turbo '91 – Provided Car
Tires: Sports Hard
Fuel use: Off
Tire use: Off
Race B
Track: Brands Hatch GP Circuit, 4 laps
Car: Gr.4 – Garage Car
Tires: Racing Hard
Fuel use: Off
Tire use: Off
Race C
Track: Suzuka Circuit, 7 laps
Car: Honda S2000 '99 – Garage Car
Tires: Sports Hard
Fuel use: 3x
Tire use: 5x
Featured image courtesy of 88GTA.
More Posts On...