There's a new set of Daily Races for Gran Turismo Sport players to race this week, and there should be a little something for everyone. This week's set of three sees racers head to two post-launch DLC tracks, and one that's been with us since the start yet rarely gets a look-in.
Race A will take you back to GT Sport's launch — and even before. It heads to the reverse version of Alsace Village circuit, a sweeping set of fictional roads set in the Vosges landscape of the French/German border. Your steed for the week is the Alfa Romeo 4C, and it's a provided car so you only need to decide if you prefer red or white for the three-lap race. Watch out for the grid start too.
The other two races step you up into the game's racing GT-a-like categories, with one race each for Gr.4 and Gr.3 cars. Laguna Seca, the most recent addition to GT Sport's track roster, will be your host for the Gr.4 cars, with a simple five-lap event. There's no additional tactical concerns here, nor even tire wear, so it's all down to your choice of garage car.
It's been a little while since tactics applied to Race C, but this week's event at Fuji Speedway — complete with Dunlop Chicane — brings back this element. The race is for any Gr.3 car from your garage, but there are tire concerns to keep in mind. This race will require players to use both medium and hard compounds for at least one lap apiece, or face a 20-second post-race penalty. An 8x wear multiplier should make for interesting decisions on when to switch in the 12-lap race.
These three races will run through to Monday, June 14, when another new set of three will replace them.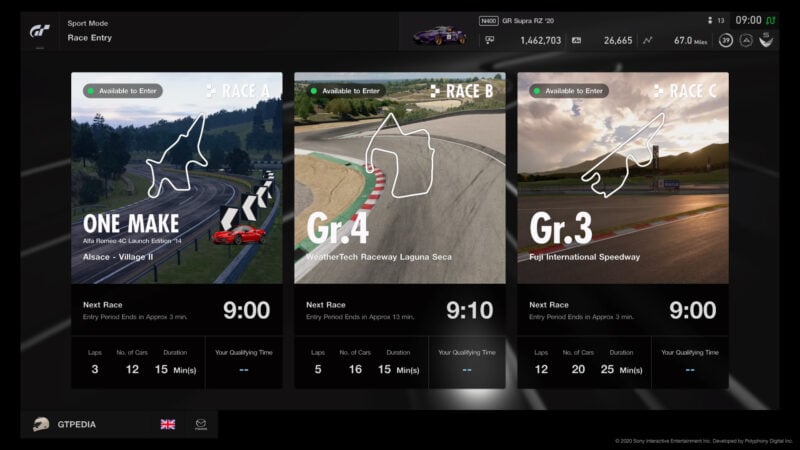 Race A
Track: Alsace Village II, 3 laps
Car: Alfa Romeo 4C Launch Edition '14 – Provided Car
Tires: Sports Hard
Start Type: Grid Start
Fuel use: Off
Tire use: Off
Race B
Track: WeatherTech Raceway Laguna Seca, 5 laps
Car: Gr.4 – Garage Car
Tires: Racing Hard
Start Type: Rolling Start
Fuel use: Off
Tire use: Off
Race C
Track: Fuji International Speedway, 12 laps
Car: Gr.3 – Garage Car
Tires: Racing Hard*, Racing Medium*
Start Type: Rolling Start
Fuel use: 2x
Tire use: 8x
See more articles on Daily Races.
More on Gran Turismo Sport