The latest set of GT Sport Daily Races, running for the next seven days, will see you recreating the golden era of rally in a rather unusual event — as well as some more standard fare.
Race A this week takes you off the track altogether, with a rare chance to show your rally skills. You'll be taking part in a four-lap race of the Colorado Springs dirt course, and tackling that age-old rally rivalry: Mitsubishi vs. Subaru.
Players can choose between the Mitsubishi Lancer Evolution IV and the Subaru Impreza WRX Coupe Type R — both specially provided cars — for the race to see which brand comes out on top. Watch out for the grid start…
Meanwhile Race B is a more traditional affair. You'll have your choice of Gr.4 race cars for a four-lap race at Fuji Speedway. While this might have previously seen front-wheel drive dominance, a recent change in the Balance of Performance may mean a different order, though the long straight might play back into the FWD cars' hands.
Our final race for the week puts you into Gr.3 machinery — GT Sport's equivalent of GT3. These cars are loosely related to road cars but see extensive changes under the skin that often means they share very few components of any kind with their road equivalents.
It's a ten-lap race at Monza, and you'll be required to use both Racing Hard and Racing Medium tires at some point during the race; failure to do so will result in a one-minute post-race penalty. The 10x tire wear multiplier is pretty stiff, and Monza's braking zones involve scrubbing a lot of speed, so it's likely you'll need to pit in any case.
These three races will run through to Monday, February 22, when another new set of three will replace them.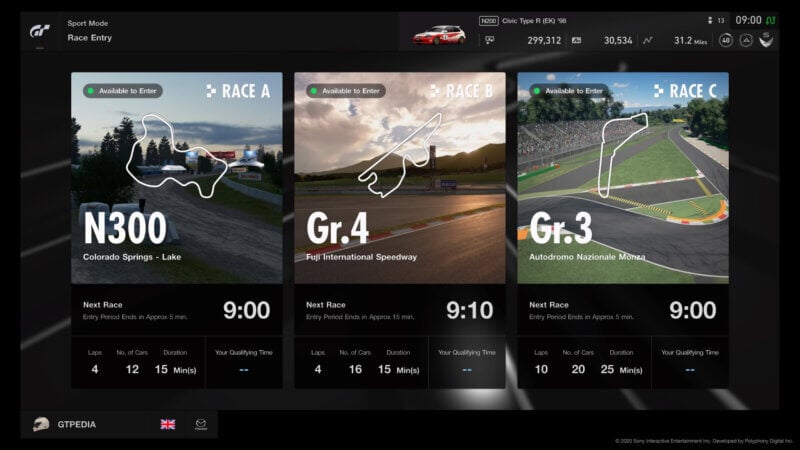 Race A
Track: Colorado Springs Lake, 4 laps
Car: Mitsubishi Lancer Evo IV '96, Subaru Impreza WRX Type R '99 – Provided Car
Tires: Dirt
Start Type: Grid Start
Fuel use: Off
Tire use: Off
Race B
Track: Fuji International Speedway, 4 laps
Car: Gr.4 – Garage Car
Tires: Racing Medium
Start Type: Rolling Start
Fuel use: Off
Tire use: Off
Race C
Track: Autodromo Nazionale di Monza, 10 laps
Car: Gr.3 – Garage Car
Tires: Racing Hard, Racing Medium*
Start Type: Rolling Start
Fuel use: 2x
Tire use: 10x
* denotes mandatory tire requirement
See more articles on Daily Races.