A new set of Gran Turismo Sport Daily Races has arrived for the week, and it's all about race-ready machinery. All three events this week will have you in the game's "Gr." classes for race cars.
Race A brings back a bit of a love it or hate it format, which puts players into their choice of one of four provided cars. You'll be able to choose from the four front-wheel drive Gr.4 cars — a category for stripped-back road cars — for a six-lap race of the short course at Autopolis.
Whether you pick the Audi TT, Peugeot RCZ, Renault Sport Megane, or Volkswagen Scirocco, you can look forward to some understeer on the off camber turns at Autopolis. That's particularly the case at the final turn, which cuts from the hairpin of the regular circuit through to the main straight, and has very little reference point for braking.
Meanwhile Race B is something of a regular, both in Daily Races and the FIA series. In fact it's one of the combinations that's been with us the longest, even appearing back in the pre-release Beta test: Dragon Trail Seaside in Gr.3s.
It's a quick, four-lap sprint this week, with free choice over your Gr.3 car. Just strap on some Racing Medium tires and go for it.
Race C is a bit less of a regular, though we do see it crop up from time to time. It will see speeds ramped up to pretty much the highest they go in regular gameplay (the occasional Special Stage Route X FIA race aside), as you'll be heading to Le Mans.
If that weren't quite enough, you won't be racing the modern version of the circuit, but a reinterpretation of it without the two chicanes down the Hunaudieres. That means full throttle from Tertre Rouge all the way down to Mulsanne corner — and you're driving top category Gr.1 cars to boot.
Without the chicanes, the Circuit de la Sarthe is a different beast. The modern, hybrid LMP1 cars in Gr.1 aren't easy to keep up with normally, due to their superior braking and out-of-corner acceleration, but it's the older cars and their higher top speeds that excel on the flat out bits. It's likely that Group C cars — the Mazda 787B, Mercedes Sauber C9, and Nissan R92CP — will be the go-to choices this week.
One further detail to be aware of is the tire requirements. You'll have to use both Racing Soft and Racing Medium tires during this race, or face a one-minute post-race penalty.
With 9x tire wear, your tires will think the race is over 450 miles long, so you'll need to split your time between the medium and soft tires wisely; an even strategy of three laps each likely won't cut it. You'll also need to keep an eye on the circuit's hyperactive track limits penalties.
These three races will run through to Monday September 27, when another set will replace them.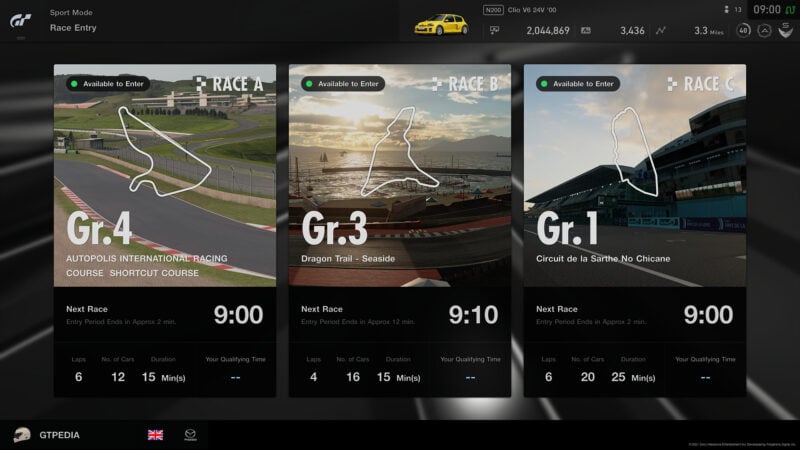 Race A
Track: Autopolis – Shortcut Course, 6 laps
Car: Gr.4 – Provided Car
Tires: Racing Medium
Start Type: Grid Start
Fuel use: Off
Tire use: Off
Race B
Track: Dragon Trail – Seaside, 4 laps
Car: Gr.3 – Garage Car
Tires: Racing Medium
Start Type: Rolling Start
Fuel use: Off
Tire use: Off
Race C
Track: Circuit de la Sarthe – No Chicane, 6 laps
Car: Gr.1 – Garage Car
Tires: Racing Medium*, Racing Soft*
Start Type: Rolling Start
Fuel use: 2x
Tire use: 9x
* denotes mandatory tire
See more articles on Daily Races.