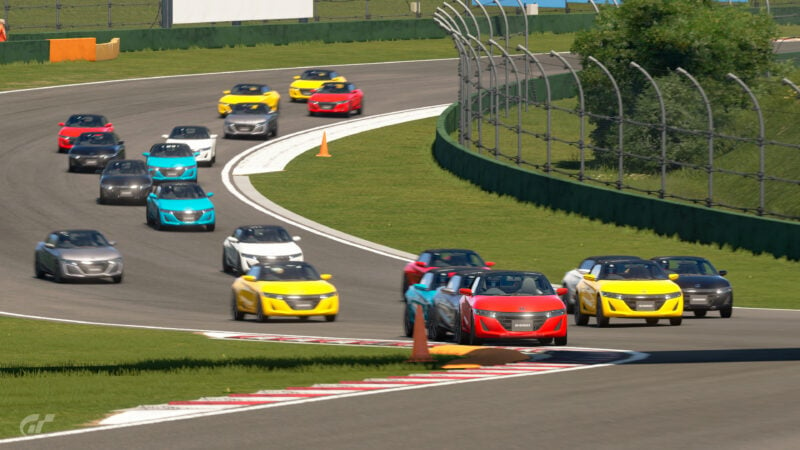 The latest set of Gran Turismo Sport Daily Races is now available for this week, bringing a somewhat European flavor to the activities for the next seven days.
Race A sends you to the fictional Autodrome Lago Maggiore circuit, and this week that's the reverse course of the East layout – the version which skips out that signature bowl corner and the final (or rather opening, with the reverse course) complex.
It's a three lap event, using the tiny Honda S660. This mid-engined keijidosha – or "Kei Car" – is Honda's modern re-interpretation of its classic Beat, one of a handful of impractical, sports-oriented vehicles created for the class which was really intended to encourage compact city cars instead.
Meanwhile Race B sends you 400 miles south-west from the real Lago Maggiore to the F1 circuit at Circuit de Barcelona-Catalunya. This track is a regular on the F1 calendar, also filling the role of the sport's official winter test track, but you'll be driving something a little slower for the week.
Instead of F1 cars, you'll be racing the Gr.4 machines. These are cars broadly equivalent to the real-world GT4, using production road cars stripped back to basics and fitted with some race-grade components in order to survive a motorsports environment.
It's a free choice of car for this week's four-lap race, but that usually ends up with one or two vehicles becoming the "meta": most effective tactic available. Early qualifying ranking suggests that's going to be the Subaru WRX Gr.4.
The final Race C swings broadly east across the Mediterranean Sea to the island of Sardinia, or "Sardegna" in the local tongue. It's another fictional track, and another reverse layout, as you will take on Sardegna Road Track A II.
This is the longest of the three Sardegna road tracks, featuring a nasty kink on the main straight followed by a savage hairpin first turn, before heading out in the the Sardinian countryside. In fact there's a number of awkward turns, made slightly harder by coming at them the opposite way in this week's race.
It's a 12-lap race, and you'll be driving your choice of Gr.2 race cars. These are the Super GT machines, with one from each of Honda, Lexus, and Nissan in each of the 2008 and 2016 seasons. Typically it's the front-engined, 2016 cars that are the weapons of choice, though tire wear might factor into your decision this week.
Not only will you need to take a pit stop, with the 7x tire wear making the race feel like it's 270 miles long for your rubber, you'll need to swap tires. That's because both the Racing Medium and Racing Soft tires are mandatory — you must use each grade at least once during the race. Players who fail to do so will take a one-minute post-race penalty.
These three races will run through to Monday October 18, when another set will replace them.
Race A
Track: Autodrome Lago Maggiore – East II, 3 laps
Car: Honda S660 '15 – Provided Car
Tires: Sports Hard
Start Type: Grid Start
Fuel use: Off
Tire use: Off
Race B
Track: Circuit de Barcelona-Catalunya, 4 laps
Car: Gr.4 – Garage Car
Tires: Racing Medium
Start Type: Rolling Start
Fuel use: Off
Tire use: Off
Race C
Track: Sardegna – Road Track A II, 12 laps
Car: Gr.2 – Garage Car
Tires: Racing Medium, Racing Soft
Start Type: Rolling Start
Fuel use: 2x
Tire use: 7x
See more articles on Daily Races.