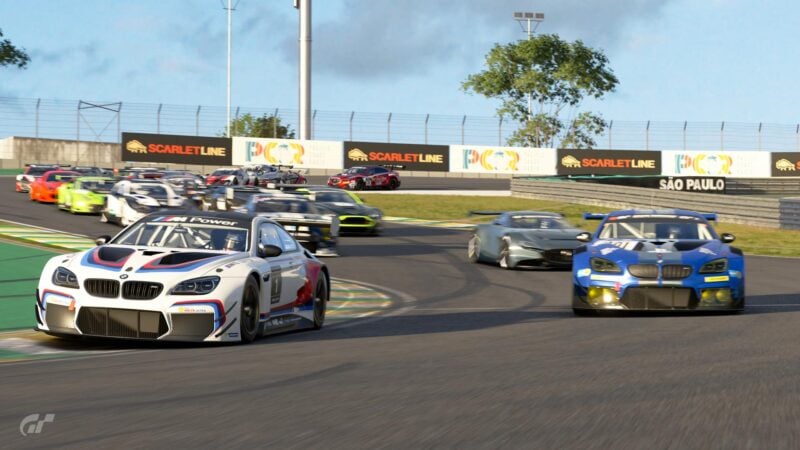 After a couple of weeks plowing the European scene, this week's new set of Gran Turismo Sport Daily Races takes players off to three tracks on different continents entirely.
Race A this week whisks you to Asia, and specifically the Fuji International Speedway in Japan. It sees the return of the Porsche pick and mix, with players able to choose between the 1995 993-generation 911 Carrera RS Club Sport and the 2009 997-generation GT3.
Although the race shows the vehicle settings are adjustable, this applies to a circuit-specific tune applied to the cars by Polyphony Digital. This allows for the two rather different vehicles to be better balanced for the four-lap head-to-head.
Meanwhile Race B skips across the ocean (and then some) to South America, and Brazil's famous Autodromo Jose Carlos Pace — also known as "Interlagos".
This race is pretty standard GT Sport fare, consisting of a four-lap race of the F1 circuit in Gr.4 cars. By current BOP, this is likely to be a race between the AWD cars in the class — the Mazda Atenza, Mitsubishi Lancer, Nissan GT-R, and Subaru WRX — although it will come down to personal preference.
Finally there's Race C, which heads north to the USA, and WeatherTech Raceway Laguna Seca in California. This again looks like a normal Sport Mode event, though there is a complicating factor.
While players will only have one tire compound to worry about — Racing Hard — and a low wear rate of just 4x, there is a mandatory pit stop required during the 14-lap race.
That means players will need to dive into the interminably long Laguna Seca pit lane at some point during the race, or face a one-minute post-race penalty. Although you're free to do so at any time, it seems likely that almost the entire field in every race will dive in on lap seven.
These three races will run through to Monday November 1, when another set will replace them.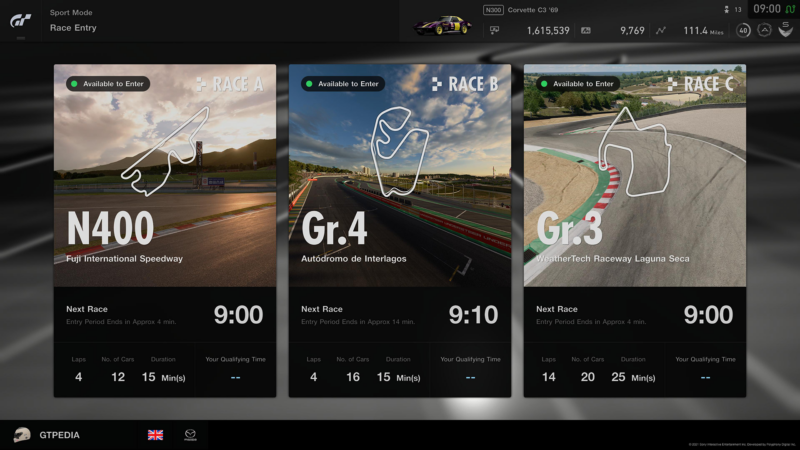 Race A
Track: Fuji International Speedway, 4 laps
Car: Porsche 911 993 RS CS '95, Porsche 911 997 GT3 '09 – Provided Car
Tires: Sports Soft
Start Type: Grid Start
Fuel use: Off
Tire use: Off
Race B
Track: Autodromo de Interlagos, 4 laps
Car: Gr.4 – Garage Car
Tires: Racing Medium
Start Type: Rolling Start
Fuel use: Off
Tire use: Off
Race C
Track: Laguna Seca, 14 laps
Car: Gr.3 – Garage Car
Tires: Racing Hard
Start Type: Rolling Start
Fuel use: 2x
Tire use: 4x
See more articles on Daily Races.