The latest set of GT Sport Daily Races has arrived to keep players occupied for the next week, with some pretty standard races up on the schedule through to next Monday.
Race A actually features the most unusual combination, putting players into a small car and on a very small track. Toyota's S-FR concept is a bit of a favorite for N-class races, so it's a car that should be quite familiar. However the track rarely features in online racing at all.
Sardegna Road Track C is the shortest of the three asphalt layouts at the Sardegna location — a real place, but a fictional motorsports facility. It's unusual to see it in Sport Mode event, and even more so in, as with this week's race, the reverse direction.
You'll have five laps to race in what looks like it'll be a fun little combo for the week.
More usual Sport Mode fare comes up in Race B. This will see you take Gr.3 race cars, GT Sport's own-brand version of GT3, to the Dragon Trail Gardens circuit.
This second layout of the fictional Dragon Trail location, set near the real town of Baska Voda in Croatia, is one of the more popular post-launch circuit additions — excluding real-world tracks, of course — and the five-lap sprint race in the quick Gr.3 cars will show you why.
Race C is another Sport Mode staple, but with a little twist this week. You'll be going to Austria's Red Bull Ring in the Gr.4 cars, a virtual rebranding of the SRO GT4 class. The category features a wide range of cars converted from regular road car by way of stripping them back to basics and adding a few race-grade components, and it's common to find the front-wheel drive machines at the head of the field.
That doesn't always apply in these tire wear races, but with a relatively gentle 3x multiplier — so the 12-lap race will feel like 36 laps to your rubber — it's likely that front-drive cars will dominate.
This week's complication comes by way of a mandatory pit stop. Players won't need to change their tires or fuel the car, but they do need to pay a visit to the pit lane during the race at some point. The choice of when is up to the individual, although players at the back of the rolling start attempting to make their stop at the very start and those leaving it until the final lap will find themselves out of luck.
Failing to make that mandatory stop will result in a one-minute penalty applied to your final race time, so be sure not to get caught up and miss it.
These three races will run through to Monday November 22, when another set will replace them.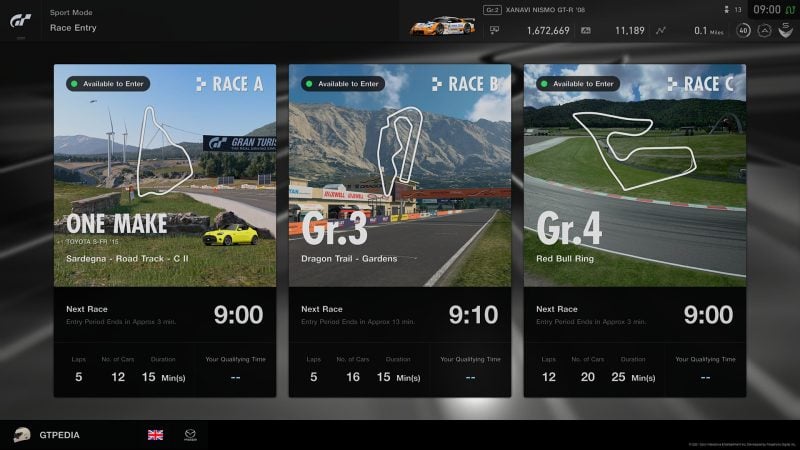 Race A
Track: Sardegna – Road Track C II, 5 laps
Car: Toyota S-FR 2015 – Provided Car
Tires: Sports Hard
Start Type: Grid Start
Fuel use: Off
Tire use: Off
Race B
Track: Dragon Trail – Gardens, 5 laps
Car: Gr.3 – Garage Car
Tires: Racing Medium
Start Type: Rolling Start
Fuel use: Off
Tire use: Off
Race C
Track: Red Bull Ring, 12 laps
Car: Gr.4 – Garage Car
Tires: Racing Hard
Start Type: Rolling Start
Fuel use: 2x
Tire use: 3x
See more articles on Daily Races.