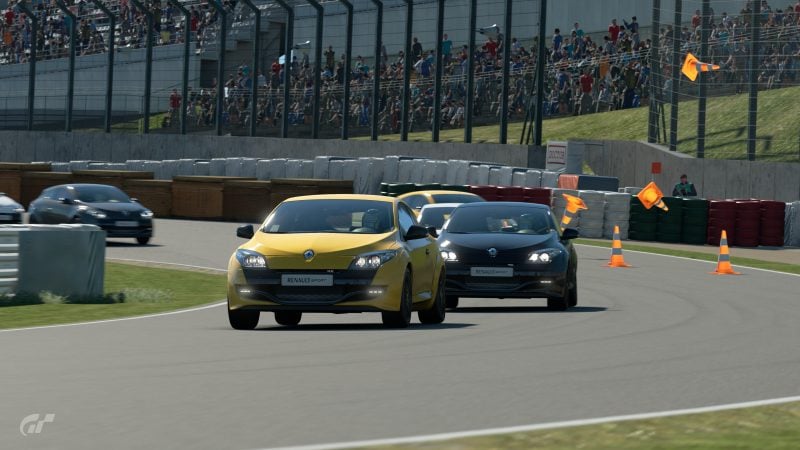 A new set of GT Sport Daily Races is with us for the next seven days, bringing new challenges for the week ahead — and we hope you like medium tires.
The races start with a slightly unusual event, again featuring a very short course indeed. Players will be heading to Suzuka Circuit, but not the full grand prix course. Instead it's the East Short Course that hosts the race.
This track effectively consists of the first sector of the full track, but instead of turning left up the hill at the Dunlop Curve, you turn right and head back onto the start/finish straight.
For the six-lap race, you'll be driving the Renault Sport Megane RS Trophy 2011 — which, if you're a little confused by all the Meganes in GT Sport, is the road version of the front-wheel drive hatchback. In fact this car was once the pinnacle of hot hatchbacks, holding a lap record around the Nurburgring Nordschleife at 8:08.
All you have to do is pick a colour from the four available and head out for your race on Sport Medium tires.
Race B will move the action to a fictional European circuit, with Polyphony Digital's Autodrome Lago Maggiore hosting affairs this week, at the full GP layout.
It's the Gr.4 cars up this time, roughly equivalent to the real-world GT4 class for stripped-out road cars, with free choice available from anything in the category.
That usually means front-wheel drive supremacy in these races with no tire wear, and an early glance at the leaderboard suggests no change this week; you could event use the Megane's Gr.4 equivalent just for consistency.
It's a short, three-lap race, with all cars using Racing Medium tires, so you just need to pick your car and go racing.
That leaves Race C, which this week recreates one of the most famous endurance races in the world: the Nurburgring 24 Hours.
Again, it's a free choice of car but this time from the Gr.3 class, equivalent to the GT3 class that fights for the overall title in the N24 each year. The circuit is, naturally, the 24 Hour layout of the Nurburgring, encompassing the Nordschleife and the GP circuit put together.
There's no particular strategy concerns this week, with no mandatory tires and no required pit stop, but then it is only a two-lap race. That means it's a 31.5-mile sprint, with a 4x tire wear multiplier making it feel like 126 miles for your Racing Medium rubber.
These three races will run through to Monday November 29, when another set will replace them.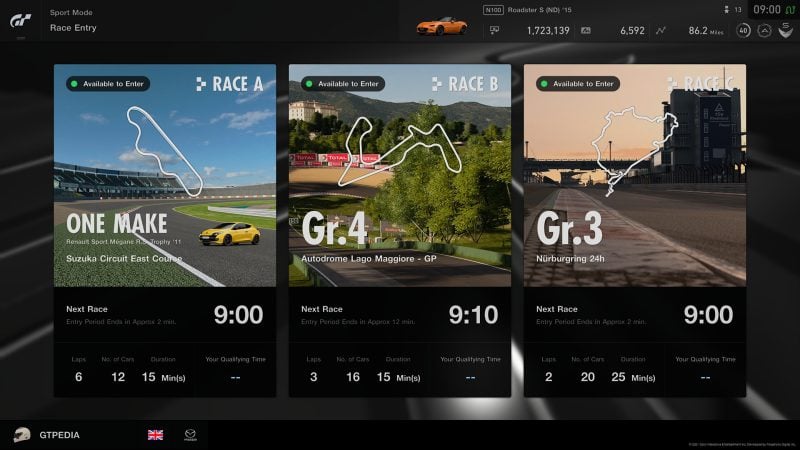 Race A
Track: Suzuka Circuit – East Course, 6 laps
Car: Renault Sport Megane RS Trophy 2011 – Provided Car
Tires: Sports Medium
Start Type: Grid Start
Fuel use: Off
Tire use: Off
Race B
Track: Autodrome Lago Maggiore – GP, 3 laps
Car: Gr.4 – Garage Car
Tires: Racing Medium
Start Type: Rolling Start
Fuel use: Off
Tire use: Off
Race C
Track: Nurburgring 24h, 2 laps
Car: Gr.3 – Garage Car
Tires: Racing Medium
Start Type: Rolling Start
Fuel use: 2x
Tire use: 4x
See more articles on Daily Races.