Another new set of Daily Races is available in Gran Turismo Sport, in what's the final full week of races before the launch of Gran Turismo 7. While we're not sure yet what will happen to the races in Sport once 7 lands, you will at least have seven full days to enjoy the current offering.
This week is largely standard fare, with another pair of races for Gr.3 and Gr.4 cars, and a one-make event for something considerably slower — which this week brings a modern kei car.
The kei car in question is Honda's S660. While the kei — short for "keijidosha", or "light car" — class of vehicles is generally intended to produce small, efficient, practical cars for city driving, some manufacturers created sports car within the highly restrictive size and power regulations.
Honda created the S660 as an homage to its original kei sports car, the Beat. It features a mid-mounted, 660cc turbo three-cylinder producing 63hp — the maximum engine size and power for the class — driving the rear wheels.
That means it's not particularly fast, but it is pretty entertaining to drive, as you'll quickly discover in the three-lap race around the East course at Autodrome Lago Maggiore. You'll be racing this track in the reverse direction, so you'll need to watch out for divebombs in the final chicane and into that first, awkward braking zone.
Race B this week brings a GT Sport staple event — one which in fact dates back even as far as the game's pre-launch Beta. It's a four-lap race of Dragon Trail Seaside, using the GT3-like Gr.3 race cars.
As it's a sprint event, there's nothing to complicate matters, so just pick your preferred Gr.3 car and go racing.
There's a slightly more unusual set of regulations for Race C this week, which puts you into Gr.4 cars. This class is inspired by the real-world GT4 category, featuring production-based road cars, stripped back to the minimum and fitted with racing brakes, suspension, and a vague nod at aerodynamics.
Generally, in GT Sport at least, the front-wheel drive cars are the pick of the class. However in races that feature tire wear they're less competitive. That probably won't matter this week, as the tire wear rate is set at 4x — tires degrade four times faster than normal — and cars can only use Racing Hard tires so even though it's a 34-mile race you won't see much wear.
There is one specific requirement though: you will need to make at least one pit stop. Whether you need tires (you won't) or not, you must make one stop during the race. Failing to do so will result in a one-minute penalty applied after the race.
As you'll be racing at the reverse version of the combined Kyoto Driving Park location, "Yamagiwa+Miyabi", and the pit lane loss here is quite small, the penalty will by far outweigh the time spent making the stop.
The three races will run through to Monday February 28, when another set will — hopefully — replace them.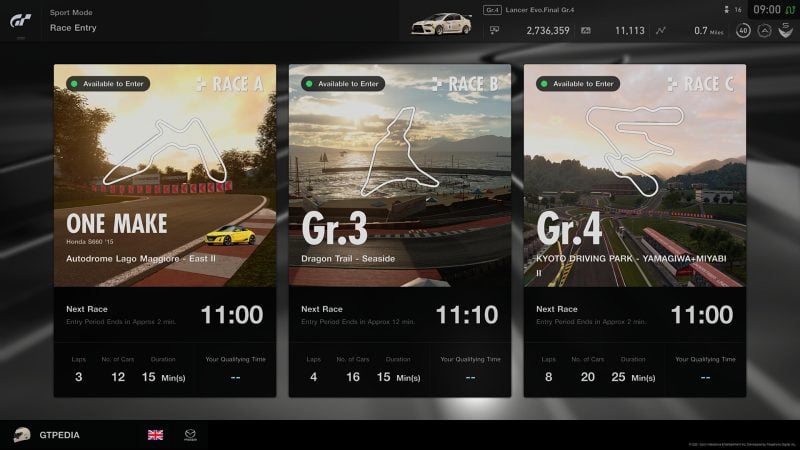 Race A
Track: Autodrome Lago Maggiore East II, 3 laps
Car: Honda S660 '15 – Provided Car
Tires: Sports Hard
Start Type: Grid Start
Fuel use: Off
Tire use: Off
Race B
Track: Dragon Trail – Seaside, 4 laps
Car: Gr.3 – Garage Car
Tires: Racing Medium
Start Type: Rolling Start
Fuel use: Off
Tire use: Off
Race C
Track: Kyoto Driving Park – Yamagiwa+Miyabi II, 8 laps
Car: Gr.4 – Garage Car
Tires: Racing Hard
Start Type: Rolling Start
Fuel use: 2x
Tire use: 4x
See more articles on Daily Races.