It's all-change again as a new week is upon us, and brings a new set of Daily Races in GT Sport. This week's trio contains two sets of race cars, and something a little bit more… pony.
Race A this week brings up a car we rarely see in these events: the Chevrolet Camaro Z28 '69. This classic American pony car packs almost 300hp from its V8 — and in fact the BOP settings for the race move it closer still, at 294hp. That will be plenty for the straights at Lago Maggiore's shorter East course, which is the layout that skips the bowl hairpin. All you have to do is pick a color (from 18 available) and hit the track for four laps.
The most powerful cars this week arrive in Race B, which is another four-lap race, but on a real-world race track. You'll be tackling the Suzuka Circuit, which has some of the world's most famous (and infamous) corners. It's a highly technical track and the only figure-8 circuit in the game, so average lap speeds won't be that high — but it'll certainly feel like they are as you barrel through 130R.
Over in the endurance-style slot for Race C, you'll find an event for Gr.4 race cars. It's an 11-lap race of Brazil's own F1 circuit, the Autodromo Jose Carlos Pace — also known as Interlagos after the area of Sao Paulo in which it's located. You can pick any of the Gr.4 cars you wish, but with racing hard tires and an 11x tire wear multiplier, there's an obvious pecking order. This is actually a combination we saw back in October 2019, so whatever worked for you back then will likely be a good bet now too.
These three races will run through to Monday, March 30, when another new set of three will replace them.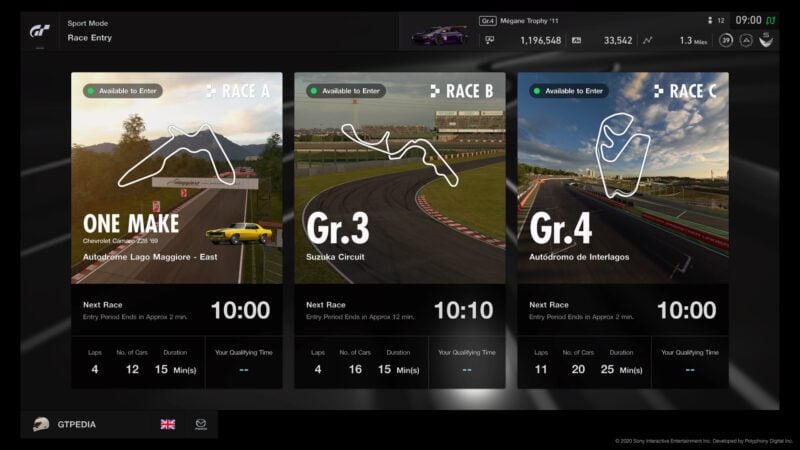 Race A
Track: Autodrome Lago Maggiore – East, 4 laps
Car: Chevrolet Camaro Z28 '69 – Provided Car
Tires: Sports Hard
Start Type: Grid Start
Fuel use: Off
Tire use: Off
Race B
Track: Suzuka Circuit – 4 laps
Car: Gr.3 – Garage Car
Tires: Racing Hard
Start Type: Rolling Start
Fuel use: Off
Tire use: Off
Race C
Track: Autodromo de Interlagos, 11 laps
Car: Gr.4 – Garage Car
Tires: Racing Hard
Start Type: Rolling Start
Fuel use: 3x
Tire use: 11x
See more articles on Daily Races.