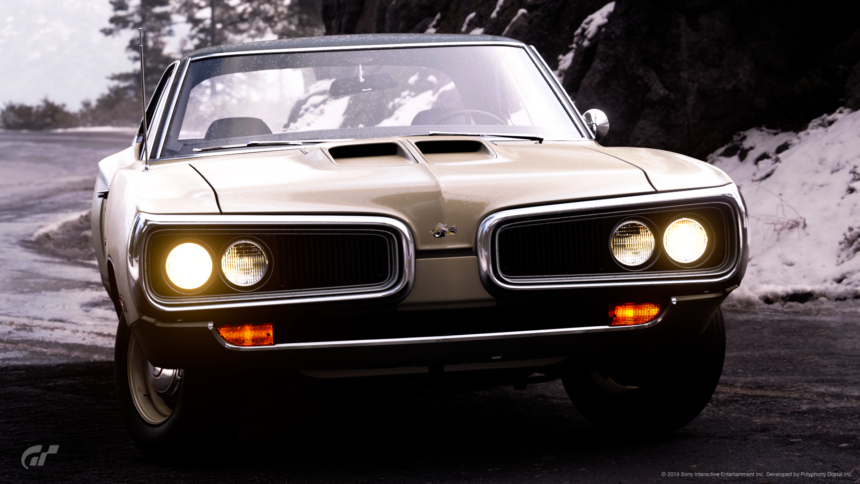 We get to try out some of GT Sport's new content in this week's Daily Races, with a new car in one race and a new (ish) track in another.
Race A will give the muscle car enthusiasts a good run out, as it features the new Dodge Super Bee '70. The big, Coronet-based muscle car — sister to the Plymouth Road Runner — gets a run out on the Sardegna "C" road track, the shortest of the three asphalt circuits at that location. It's a specially provided car, so no chance to show off any liveries you've made for it but the wide choice of colors available should make a pretty varied grid. Although obviously Plum Crazy is the only sensible choice.
The new track features in Race C. It's actually a circuit that came right at the game's original launch, but with a new twist: Tokyo Expressway East Outer Loop, with wet conditions. You'll be racing Gr.3 machinery there, so watch out for those big braking zones as you try to pull the cars down from 170mph on a damp road surface. This is the endurance race option this week, but it's unlikely you'll need to pit — and although you have the option of full Wet or Intermediate tires, you're going to have a bad time if you think the inters will do it.
For a little added normalcy, Race B will see players head to Mount Panorama in the Gr.4 cars they have in their garage. It's a fairly standard combination but, despite just being three laps long, one that'll be a fun challenge.
All three races will run through to Monday, October 7, when we'll get a new set of three for the week.
Race A
Track: Sardegna – Road Track C, 6 laps
Car: Dodge Super Bee '70 – Provided Car
Tires: Sports Hard
Fuel use: Off
Tire use: Off
Race B
Track: Mount Panorama, 3 laps
Car: Gr.4 – Garage Car
Tires: Racing Hard
Fuel use: Off
Tire use: Off
Race C
Track: Tokyo Expressway – East Outer Loop (Wet), 8 laps
Car: Gr.3 – Garage Car
Tires: Racing Intermediate, Racing Heavy Wet
Fuel use: 2x
Tire use: 4x
Featured image courtesy of AKps3.
More Posts On...