Polyphony Digital has rolled out the latest version of Gran Turismo Sport. Version 1.45 weighs in at a hair over 2GB, introducing four new cars and expanding the available wet circuits in the game.
While some fans were able to deduce the included cars pretty much as soon as they were teased, microtransaction prices on the PlayStation Store locked them in early Wednesday. Read on for the full v1.45 details.
New Car Quartet: Three Classics and Modern Muscle
GT Sport players will find four additions to the car roster this month. Two of these should be familiar to franchise fans, with the 1959 Chevrolet Corvette Stingray Racer Concept and 1971 Ferrari 365 GTB4 both returning from Gran Turismo 6.
The Corvette joins as one of the oldest cars in the game, sitting pretty at 60 years old. It may be labelled a concept — it did heavily preview what would become the second-generation 'Vette — but the Stingray holds genuine race car status, winning back-to-back SCCA Class C titles in '59 and '60 in the hands of GM Styling department chief Bill Mitchell.
The Daytona needs little introduction. Ferrari's front-engined V12 grand tourer remains one of the Prancing Horse's most famous shapes. Sporting a bored-out 4.4-liter version of the Colombo V12, it produced 347hp in its prime, enough to propel the Daytona beyond 170mph.
Two new challengers round out the additions. Wait, one isn't even a Challenger at all — it's a Coronet. The 1970 Super Bee is one of the many permutations of big V8-powered "B Body" Chryslers at the time. This, alongside the Daytona, leaked earlier in the month, essentially confirming its introduction to the franchise.
From one classic bit of American muscle to a new one: say hello to the Chevrolet Camaro ZL1 1LE. The hardest of the hardcore in the modern Camaro lineup, the 1LE package rolls the car in all manner of downforce-generating addenda. In a rare move in the performance car field it also downsizes the rubber, going to 19-inch wheels and tires, though they're still monstrous 305-section meats up front. A high-performance suspension comes in too, helping put the 650 supercharged ponies to the ground more effectively.
Chevrolet Camaro ZL1 1LE 2018 (N700) – 79,500cr
Chevrolet Corvette Stingray Racer Concept 1959 (Gr.X) – 5,000,000cr
Dodge Super Bee 1970 (N300) – 80,000cr
Ferrari 365 GTB4 1971 (N400) – 1,000,000cr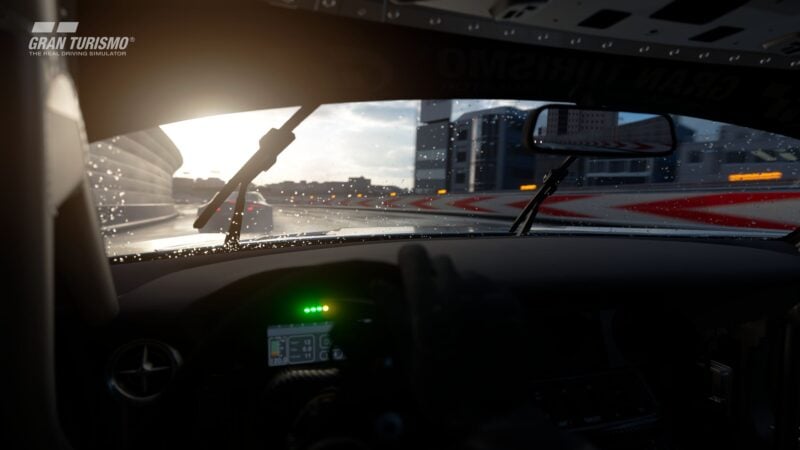 Four New Tokyo Expressway Layouts (in the Rain)
We saw it in action in Salzburg earlier this month. Now all GT Sport players can tackle the rain at Tokyo Expressway.
What many on the ground worried would be mayhem actually turned into the best race of the day. That was on the East Outer Loop track, with its long straight giving the pros time to stretch the Zonda R's legs. Word originally suggested they'd be driving on the first known Expressway layout — Central Outer — and that too arrives in 1.45.
The reverse "Inner" Loop versions of both tracks also get the rainy treatment, with Dawn, Noon, and Twilight wet conditions for all four. Tokyo's South tracks remain dry for now though.
The Tokyo Expressway tracks offer little room for error thanks to its close walls, and the rain only shrinks that. Good luck to those venturing here in the latest FIA exhibition season…
Still waiting for Spa-Francorchamps? Yep, us too. There's no hint of it here in 1.45, so players will look towards next month's update, surely.
More GT League Events
If it's a GT Sport update with new cars and tracks, new single-player races can't be far behind. Sure enough 1.45 adds seven of them, spread across four leagues:
Beginner League: Two new rounds added to the "Stars & Stripes"
Amateur League: Two new rounds added to the "Group 3 Cup"
Professional League: Two new rounds added to the "La Festa Cavallino"
Endurance League: One new round added to the "Gr.1 Prototype Endurance Series"
Michelin, Michelin, Michelin
Are you a fan of Bibendum, Michelin's rotund mascot? Prepare to see a lot more of him, and the French company's yellow and blue hues. Thanks to the new partnership between Michelin and Gran Turismo, the brand will be present all over Sport, from the car settings screen, the FIA championships, and on-track billboards. It even gets its own sections in the museum and Brand Central.
Wet-Weather Scapes
Lastly, for the shutterbugs amongst players, a new collection of Scapes allow players to douse their rides in a fine mist. You'll find a variety of locations in the featured section, where cars' sheetmetal can feature raindrops.
As always, keep an eye on our GT Sport sub-forum for any undocumented changes.
See more articles on GT Sport Game Updates.