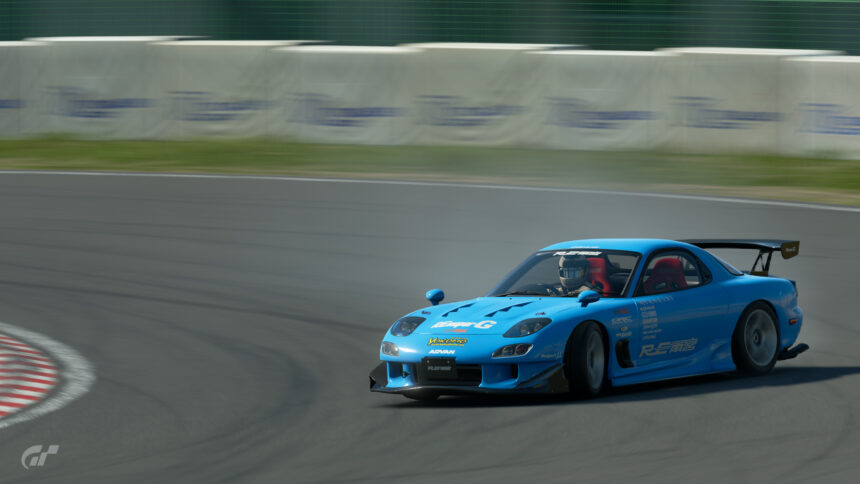 It's back to Japanese shores for the next two weeks in the GT Sport time trials, as you'll face a tricky challenge on two compact circuits.
The first features the game's road-based race cars, in the Gr.4 category. You'll need to set the fastest time you can at Suzuka, but there's a twist. It's not the fast, flowing, full F1 track, but the dinky little East Short Course. That consists of the first turn, the esses, and then a tricky switch back onto the main straight. Lightweight and agile may be the key here — which usually means the Megane Trophy V6…
For tuning enthusiasts there's a classic Time Attack-style event, at the Tsukuba Circuit. Another tiny track, Tsukuba is all about getting the car stopped and rotated for the three tricky hairpins, along with keeping speed up through the kink under the bridge and the long final corner. You'll be driving the tuner special RE Amemiya FD3S RX-7, and you'll be able to tune your tuner further with free rein on settings.
Time Trial mode is a global competition, ranking your best time against all players worldwide, not just those in your region as with other Sport Mode events. These two time trials will run through to February 27, when two further events will replace them.
Eagle-eyed readers will note that the Time Trial thumbnails have not yet updated for this week, though the descriptions have. We'll change the image below when they do.
Gr.4 Super Lap
Track: Suzuka Circuit – East Short Course
Car: Gr.4 – Garage Car
Tires: Racing Hard
BOP: On
Power/Weight Limit: N/A
Settings: Fixed
RE Amemiya FD3S Super Lap /Tuning Allowed
Track: Tsukuba Circuit
Car: RE Amemiya FD3S RX-7 – Garage Car
Tires: Sports Hard
BOP: Off
Power/Weight Limit: N/A
Settings: Adjustable
More Posts On...