There's a rather unusual mix of events in this fortnight's GT Sport Time Trials, and you're going to need a slightly different set of skills than normal.
First on the list is something a little routine. It's a test of your car selection skills as much as it is your lapping ability. You'll head to Japan's former F1 venue at Fuji Speedway for a hot lap — Dunlop Chicane included — in the Gr.4 car of your choosing. A very recent change in the Balance of Performance hasn't entirely blunted the single-lap pace of the front-wheel drive Gr.4s, but the choice is yours.
Meanwhile the second event comes at us straight from left field. The car choice is interesting enough on its own, with players driving the classic 1972 Alpine A110 — a car recently revived and reinvented for the modern Alpine brand. However you'll be racing it at an oval — and it's not just any oval, but BB Raceway.
BB, or Broad Bean, Raceway is a strange, compact track with two heavily banked, left-hand corners, a sharp-left first turn, and an odd right-hand kink which tries to spit you into the pit lane. It comes it at just over a mile long, but it's a pretty busy mile.
You'll be able to adjust the settings for the Alpine to your preference, and it's likely you'll need it. The car's rear-engine layout makes for some interesting handling characteristics, especially on the banking and under heavy braking. You can also make the A110 50% more powerful for this event, which is only likely to make those foibles happen much, much faster.
GT Sport's Time Trial mode is a global competition, ranking your best time against all players worldwide, rather than just those in your region as with other Sport Mode events. These two time trials will run through to July 2, when two further events will replace them.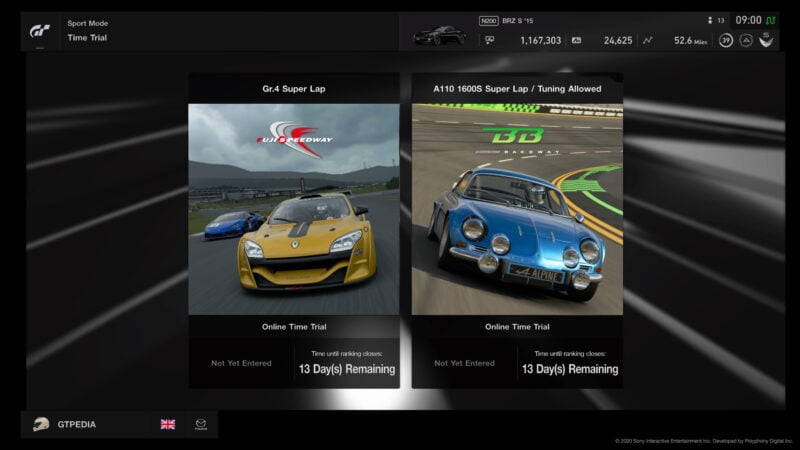 Gr.4 Super Lap
Track: Fuji International Speedway
Car: Gr.4 – Garage Car
Tires: RacingHard
BOP: On
Power/Weight Limit: N/A
Settings: Fixed
A110 1600S Super Lap/Tuning Allowed
Track: BB Raceway
Car: Alpine A110 1600S '72 – Garage Car
Tires: Sports Hard
BOP: N/A
Power/Weight Limit: N/A
Settings: Adjustable
See more articles on GT Sport Time Trial.
More on Gran Turismo Sport