The newest game mode in GT Sport, the online time trial, has gained new events for the next fortnight.
Over the course of the next two weeks you'll need to zero in on your best possible lap for a global hotlap competition. The combinations this time round sit at very different ends of the GT Sport performance spectrum.
Sitting on the slow step is the first of the two events. The time trial takes place on the tiny and unusual BB — or "Broad Bean" — Raceway, an anticlockwise oval with a twist, or rather a kink. It's not a circuit for raw speed, and only really has one braking point, but handily the car you'll use is no speed demon either. The event uses the Honda S800 '66, a classic, beautiful, and free-revving convertible packing just 68hp (although this changes with the BOP settings). We expect the leaderboard times to be pretty close.
Everything gets a great deal faster and trickier in the second event though. You'll need to master the technical Suzuka Circuit at breakneck speeds and with incredible cornering forces in the Mercedes-Benz F1 W08 EQ Power+ — the standard car, rather than the "Color Variation". This is the car used by Lewis Hamilton and Valtteri Bottas in the 2017 Formula One World Championship. Aside from tires, which are fixed as Racing Medium, you'll have free rein on the car's settings too. It comes at an appropriate time, with the 2019 version of the F1 circus heading to this very circuit on the coming weekend.
The time trials will run through to October 24, with two further time trial events to replace them.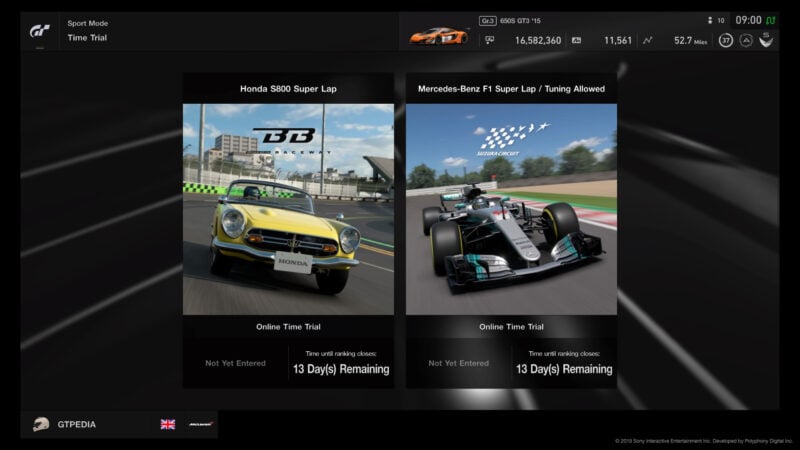 Honda S800 Super Lap
Track: BB Raceway
Car: Honda S800 '66 – Garage Car
Tires: Sports Hard
BOP: On
Power/Weight Limit: N/A
Settings: Fixed
Mercedes-Benz F1 Super Lap/Tuning Allowed
Track: Suzuka Circuit
Car: Mercedes-Benz F1 W08 EQ Power+ 2017 – Garage Car
Tires: Racing Medium
BOP: Off
Power/Weight Limit: N/A
Settings: Adjustable
More Posts On...