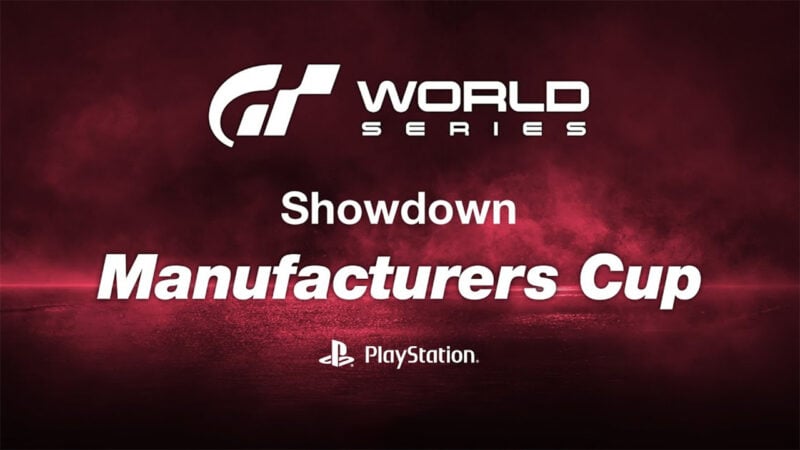 The first live event of the Gran Turismo 7 era gets underway today, with the World Series Showdown Manufacturers Cup.
It's the first time the Gran Turismo family has gathered in one place since the World Tour Sydney in 2020, due to ongoing global events. That place is, for a third time, Red Bull Hangar-7 in Salzburg, Austria.
The Manufacturers Cup will see the top 12 global brands from the 2022 Online Season 1 racing for up to six World Series points, in a team race that's likely to run close to 90 minutes. Nine will qualify through their points tallies, with guaranteed spots for series sponsors Genesis, Mazda, and Toyota.
Each brand will be represented by three drivers, with the top-ranked player for each marque within each of the three Manufacturers Cup regions — EMEA, Americas, and Asia-Oceania — taking their place in Austria.
There'll be just one race at the Showdown, with each team racing its Gr.3 cars at the returning, and reworked, Trial Mountain circuit. It's a 48-lap event, with some interesting regulations.
Each of the team's drivers must drive the car at least once during the event. The cars must also use the Racing Hard, Racing Medium, and Racing Soft tires at least once each and for no less than 14 consecutive laps apiece — which might be a challenge even at a low 2x wear multiplier (one lap equals two laps of wear) on the Soft options.
It's not clear at this point if the drivers have their own stint requirements, but there could be some interesting strategy calls if not.
Subaru, which won the World Series Round 1 online event, is the team best known for its unusual strategies, but comes into the event on the back foot. That's because talismanic driver Takuma Miyazono is absent through illness; it remains to be seen if Subaru can race with two drivers, grab a last-minute substitute, or if it will be excluded from the event.
That would seem to give the advantage to any one of a number of teams looking to leave Salzburg with six points.
Toyota is a likely favorite with Igor Fraga returning from the 2021 championship-winning squad, alongside two-time Tour winner Ryota Kokubun who has surprisingly switched from Mazda. Nikita Moysov is no slouch in the third seat either.
Two of the German brands could be worth keeping an eye on. AMG counts World Series Round 1 Nations Cup winner Lucas Bonelli and Baptiste Beauvois — the man who was half a lap from beating him until an unfortunate spin — in its ranks.
Porsche has a strong lineup that includes three previous Tour attendees, with potential future champion Jose Serrano and Angel Inostroza — who won the 2021 World Series Round 1 event for the marque, alongside Connor Healy.
Newcomer Genesis grabbed a surprise second place last time out, courtesy of Nicolas Romero, who also misses out due to illness and will be replaced with Manuel Rodriguez — present due to his participation in Nations Cup. while Nissan experienced something of a renaissance at the World Series Round 1 too; after a few years away from the top spots, Mehdi Hafidi captured third place at the event.
That means that, if you're participating in the Bonus Campaign, to win 500,000cr in-game by guessing the event's winner, it's a pretty tricky task.
The livestream gets underway at 1900 UTC on Saturday July 30, and you can watch it in full below:
Alternate Language Streams
Competitors
See more articles on Gran Turismo World Series.