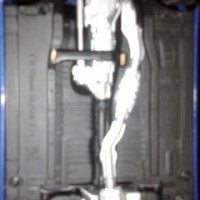 GTPlanet user NISMO_GTR_ noticed something looked a bit odd when he flipped his Mine's R34 Skyline: Phillips-head screws, an AUTOart logo, and a bit of text that read "1/18 Nissan Skyline R34". AUTOart, of course, is a large manufacturer of die-cast car models – a popular feature around the Polyphony Digital offices.
The user who discovered the suspect texture actually has this model and snapped this picture to confirm that everything does, indeed, line up. Nice one, Kazunori-san, and good spot, NISMO_GTR_!
See more articles on Nissan Skyline.