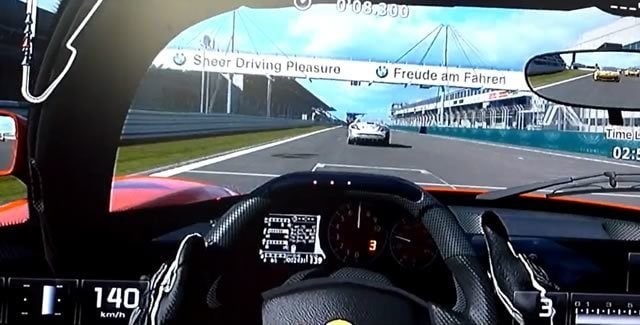 Our old friend mimaximax travelled to Germany this past weekend to experience the Nurburgring GP demo first hand! Here's his latest video, providing us with an in-car gameplay video of the Enzo Ferrari around the new Nurburgring GP circuit.
http://www.youtube.com/watch?v=C0zO41mr9-I
Gameplay of 2002 Ferrari Enzo using a Driving force GT, pro physics and no aids (I think ABS is set on 1). Track is Nürburgring GP. There were only 8 cars on track but i'm positive there'll be more on final release.

Transmission : Automatic (shifters were broken)
Driving Physics : Professional
Driving line : Off
Active Steering : Off
Traction control (TCS) : 0
Front Tires : S2
Rear Tires : S2

Physics seemed a little bit more like Time Trial Demo than what it was in GT5 CES 2010 demo.

Video recorded in 720p@50fps from 1080p Bravia screen, using a tripod, a Panasonic TZ7 and a Zoom H2 recorder.

Note : There were two demos around the Playstation truck running on PS3 Test : one time limited and the other with unlimited number of laps but none of them had the replay function. Option on the main menu was disabled so I wasn't able to turn off music while racing. AI didn't amazed me at all. AI drivers now have names (selected randomly ?) : Titus, Grant, Shawn, Keagan, Jasper, Giovanni, Rodrigo, Keith, Haiden, Phoenix, Yahir, Humberto, Jimmy, Jason, Kai, Jayson, Russell, Jared, Milton, Carlos, Omari, Harper, Zachary, etc. I think it's part of the "more human IA experience" ; maybe one name is linked to one particular behaviour just like in NFS Shift. No more active stability management setting (ASM) in the option menu. Engine noises still sound a "little" poor. The sparks effect looked very poor to me as well, at least, we know sparks will be there.

Graphics seemed to have improved a little bit. Atmosphere around the Nürburgring changed, it was less yellowish than the one in GT5 CES 2010 demo (seasons changes ?). The whole experience felt more like PC sims, with subtle handling and accurate track details but low on effects or polygons ; whereas games like Dirt that have beautiful 3D moving trees and lots of visual effects but got an arcade handling.
See more articles on Enzo Ferrari, Gameplay Videos, GT5 Videos, mimaximax, and Nurburgring GP.