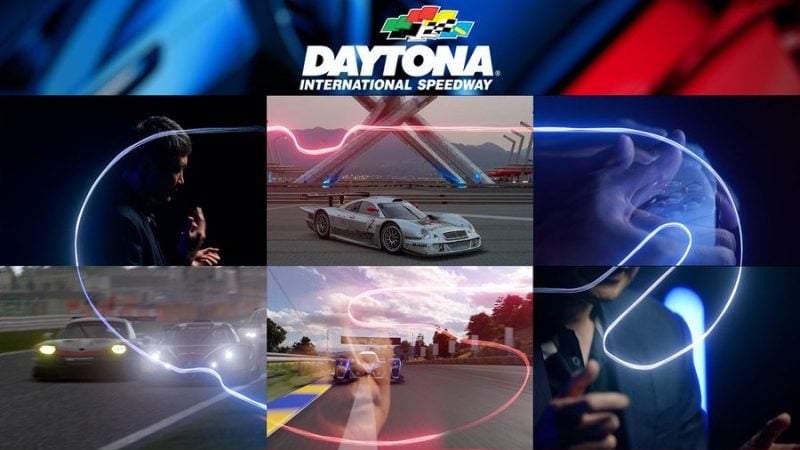 Gran Turismo's social media channels have again confirmed that Daytona International Speedway will be returning to the series in Gran Turismo 7.
It's a track we've known about for a very long time indeed, dating back to the original announcement of GT7. A thumbnail for Daytona appeared in the course selection screen for the Americas region, alongside fellow returnee Trial Mountain.
Daytona made its series debut back in 2007 with GT5: Prologue, making the transition to the full Gran Turismo 5 and subsequently Gran Turismo 6 in 2013. However it was missing from GT Sport's track line-up and has never been added to the PS4 title.
The course in all three previous titles was available as both the famous tri-oval and the road course as used for endurance and motorcycle racing.
That latter layout seems to be what the social media posts are referring to, following on from the Easter Egg teaser embedded in the most recent "Behind the Scenes" video, which we made mention of at the time.
However this is a slightly different version than the one seen in the older games. The light-trace lines clearly show the addition of an extra chicane just short of the finish line, reflecting a change made to the circuit in 2020 for NASCAR events. That's not used for the sports car races like the Daytona 24 Hours.
This could then suggest that the GT7 version of the track might have multiple different layouts — oval, sports car course, NASCAR course — though given that the Deep Forest teaser showed an old version of the track and not the one actually included in GT7, we'll not draw any conclusions just yet.
Gran Turismo 7 will launch on PlayStation 4 and PlayStation 5 on March 4.
See more articles on Daytona.