Players in some regions will receive special collectible Gran Turismo items if they pre-order physical editions of Gran Turismo 7 ahead of the March 4 launch.
When pre-orders for the title first went live back in September 2021, some gamers were quick to voice disappointment with the incentives offered. The only additional items were digital in nature: in-game credits and a three-car pack for all versions, plus an avatar pack and a bonus Nations Cup Toyota GR Yaris for the 25th Anniversary Edition.
However it seems that in some regions at least, there's additional, physical pre-order bonuses now too.
According to a blog post for the Korean region, players who pre-order the standard edition of the game will receive a special metal and leather keychain, while those who go for the 25th Anniversary Edition will get a pretty cool-looking set of coasters.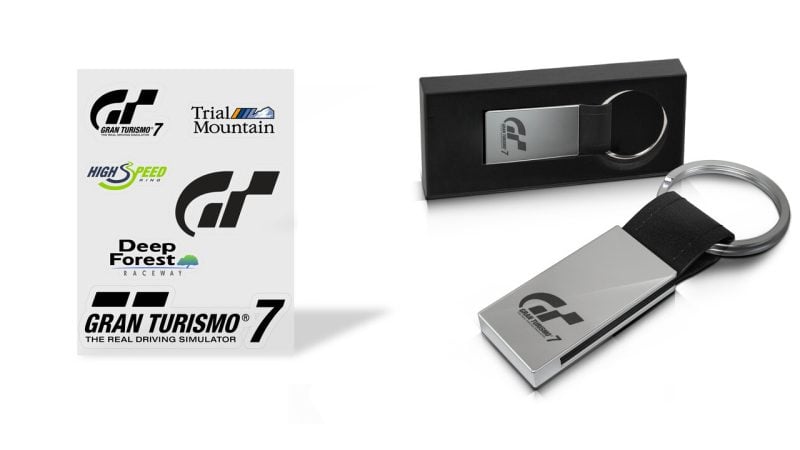 It's not clear what the coasters are made of but there's six in total in a special GT7-branded box, and when laid out together they show the new layout for Trial Mountain.
In addition, all pre-orders also receive a GT7 sticker set, showing GT and GT7 logos and a set of track logos for the returning Trial Mountain, High Speed Ring, and Deep Forest Raceway. Interestingly there's no logo for Apricot Hill, though the circuit hasn't been officially confirmed yet despite that track's layout clearly appearing in recent promotional videos.
Since these pre-order bonuses were revealed for Korea, the PlayStation Hong Kong social media accounts have also stated the same items, while some European stores have confirmed the keychain as a bonus on a per-retailer basis.
We'll keep our eye out for any other items in other regions, but if you have any Korean or Hong Kong friends, now might be a good time to draft them in to help.
Thanks to tankuroded for the initial tip!