Gran Turismo 7 pre-orders officially opened on Tuesday, and if you reserve your copy early, you'll be rewarded with 100,000 in-game credits and a "3 Car Pack" of bonus content including the Toyota Supra GT500 '97 (Castrol Tom's), Porsche 917 Living Legend, and Mazda RX-Vision GT3 Concept Stealth Model.
The official announcement included screenshots of the cars, but our friends at Sony have sent over an additional content pack with high-resolution 4K screenshots — captured on PS5 — that are definitely worth a closer look.
We're publishing them for you here in full resolution: just click on any image to download the larger size for closer inspection!
Toyota Supra GT500 ?97 (Castrol Tom?s)
For most of our readers, this car needs no introduction. Arguably one the most famous vehicles to emerge from the original games in the franchise — alongside other legends like the Suzuki Escudo and Daihatsu Midget II — the Castrol Tom's Supra will flood any old-school Gran Turismo fan with nostalgia.
The '97 car first became famous for toppling the dominant Nissan GT-R in the JGTC that year, but its striking good looks and performance quickly made it an international favorite when it debuted in the original Gran Turismo.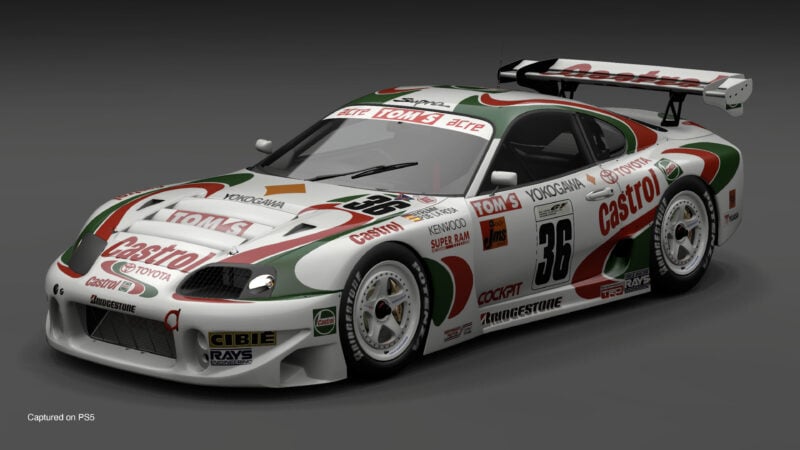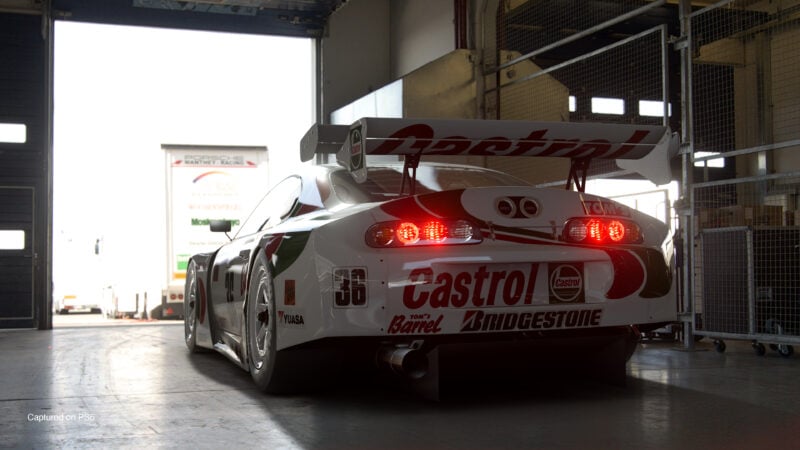 Curiously, the championship-winning '97 model isn't technically the same car that was featured in GT1 or GT2.
The '96 model was actually in those first two games and — even though it wasn't as successful in the JGTC as the '97 version — it built the foundation for Toyota's JGTC program and prominently established the Castrol Tom's Supra in racing game lore.
It was the '97 model that featured in GT5 and GT6, but was absent in GT Sport, so the car's triumphant return in GT7 is an important milestone of the series' 25th anniversary. As franchise creator Kazunori Yamauchi told us when we interviewed him last week, he wants players to "remember the feeling they had when they first started playing these games," and the return of this legend will certainly help with that.
Porsche 917 Living Legend
As much as the Castrol Tom's Supra looks to the series' past, the Porsche 917 Living Legend seems to look to its future.
Although most of us take Porsche for granted in GT Sport these days, it was only a few years ago that the famous brand from Stuttgart was little more than a pipe dream for Gran Turismo players. A decades-long exclusivity agreement with Electronic Arts meant that Porsche was largely absent from more serious-minded driving simulators, but that finally came to an end in 2017.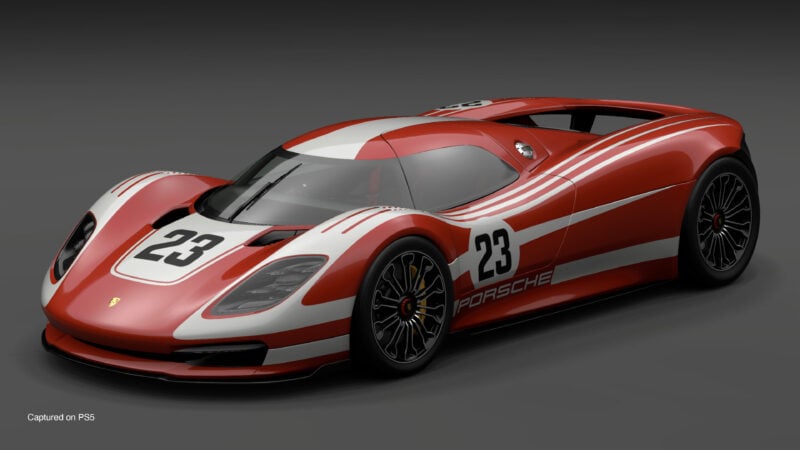 After making its debut in Sport, it's clear that Porsche is about to play a major role in GT7, and the inclusion of the 917 Living Legend in the pre-order content pack is proof of that. Designed in 2013 but first revealed in March of 2019, the 917 Living Legend is Porsche's way to celebrate the 50th anniversary of its famed 917 race car that brought home victory at Le Mans in 1970.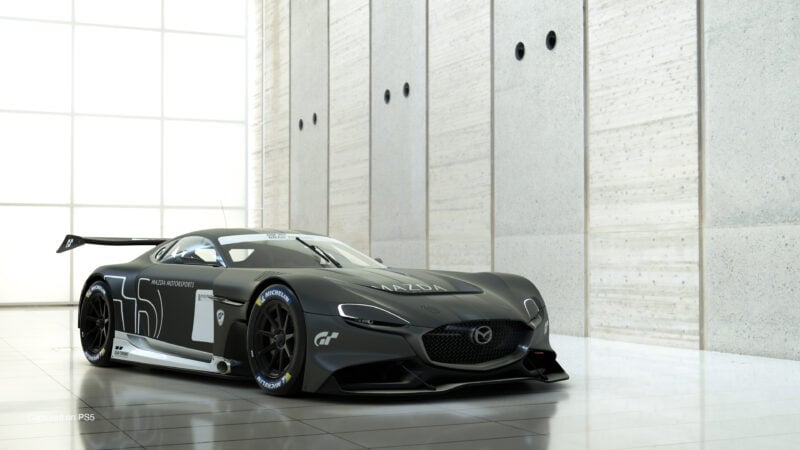 Mazda RX-Vision GT3 Concept Stealth Model
The Mazda RX-Vision GT3 was revealed to much fanfare at the 2019 FIA Gran Turismo Championship World Finals in Monaco and came to GT Sport in May of 2020.
Gran Turismo aficionados will note with interest that this particular version is a "Stealth Model" — a blacked-out, carbon fiber-bodied version of the "normal" GT3 car. This is significant as it's a call back back to the special-edition "Stealth Models" first revealed in the Collector's Edition of Gran Turismo 5, which included carbon-fiber versions of famous favorites like the Mazda 787B, Nissan GT-R GT500, McLaren F1, and others.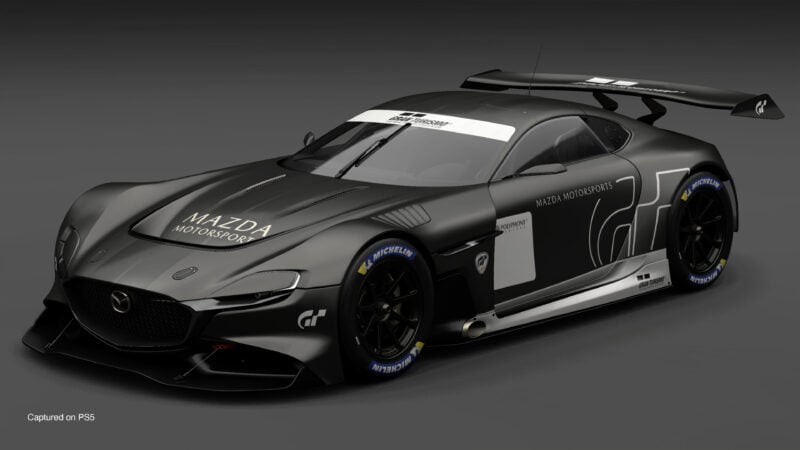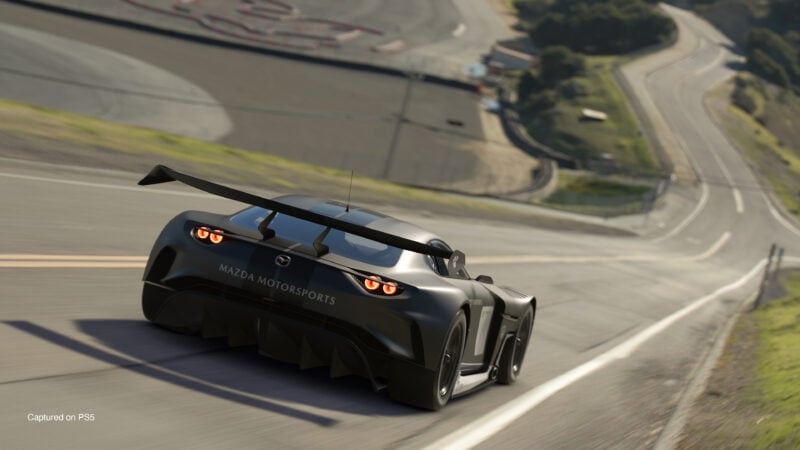 Assuming the RX-Vision GT3 continues the tradition, expect the Stealth Model to have more power and less weight for even more performance.
There were even diecast models of the Stealth vehicles from GT5 available, so could we see this hitting the store shelves in a similar fashion?.
Tsukuba, Circuit de la Sarthe, and High Speed Ring
Variable weather and lighting effects are featured prominently in these screenshots, showcasing the dynamic environmental conditions coming to the new title.
Real-time changing conditions won't be available on all the tracks — as Kazunori Yamauchi confirmed to us in our recent interview — but we can likely assume it will be featured at least on these three circuits, considering they were featured in the screenshot pack.
For more, don't miss our Gran Turismo 7 Ultimate Guide — GTPlanet's own always-up-to-date guide that covers each and every detail related to the new title.
See more articles on Screenshots.