When Gran Turismo 7 launches on March 4 it will be only the second new game in the series to come on two discs, at least for players who are picking it up on the PlayStation 4.
The information appears on a listing for the game on PlayStation Direct listing, a storefront available in some regions for buying PlayStation products directly from Sony rather than other retailers. Although PlayStation Direct is currently available in the USA, United Kingdom, France, Germany, and BeNeLux, GT7 itself only appears on the US version of the site.
You'll find the detail buried at the bottom of the listing after all the various features and marketing details for the title. In amongst the various disclaimers, the PS4 version of the game states "2 discs", whereas the PS5 version does not.
Ultimately it comes as little surprise to find that GT7 needs to run to two discs on the PS4, as it simply comes down to the maximum capacity of the storage media.
Both the regular PS4 and the PS4 Pro are equipped with a standard BluRay Disc (BD) drive, which means they are limited to standard BluRay discs. That format, first introduced in 2006 and popularized by the PlayStation3, has a maximum storage capacity of 50GB on a dual-layer disc.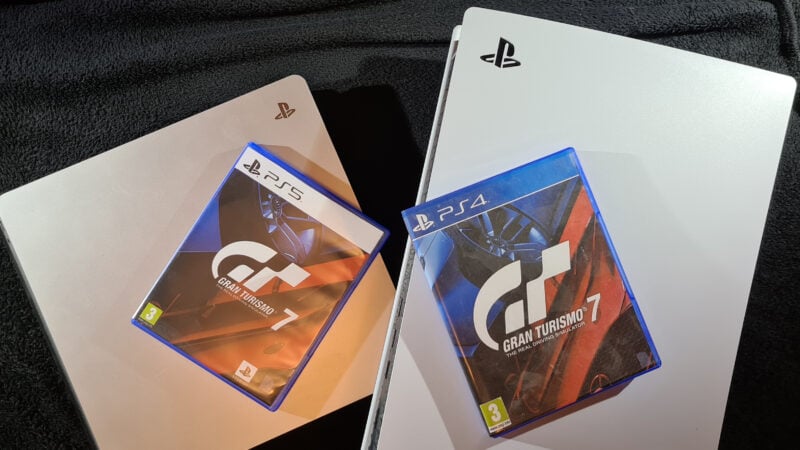 The PlayStation 5 meanwhile uses the higher standard UltraHD BluRay, designed for 4K movies. With triple-layer discs, UltraHD can support up to 100GB, and GT7 will be a one-disc game on the system.
That also gives us a ballpark figure for GT7's size, at least compressed on disc, at somewhere in the high double-figures of GB. GT Sport, by comparison, was a pretty sleek 35GB on its BD, only growing to its current size of 110GB through updates over the last four years.
Notably, GT Sport Spec II also came on two discs. This version of the game arrived in October 2019 and included all of the updates up to v1.39. That meant it far exceeded the abilities of a single 50GB BD to contain, thus it was spread across two discs.
Prior to GT7, only 1999's Gran Turismo 2 shipped on two discs out of the box. Constrained by the maximum size limit of 660MB of the first PlayStation's double-speed CD-ROMs, Polyphony Digital split the game into Arcade Mode on one disc and GT Mode on the other. Famously the GT Mode disc also included "authentic pit stop smell", with the scent of rubber impregnated on the disc label, in PAL regions.
With Gran Turismo 7, it's likely that one disc will contain data for installation only, while the other will consist of data and the game licence. This will be the disc you'd need to use to run the game and also the PS5 version if you plan to upgrade later.
Gran Turismo 7 will launch on March 4 on PlayStation 4 and PlayStation 5.