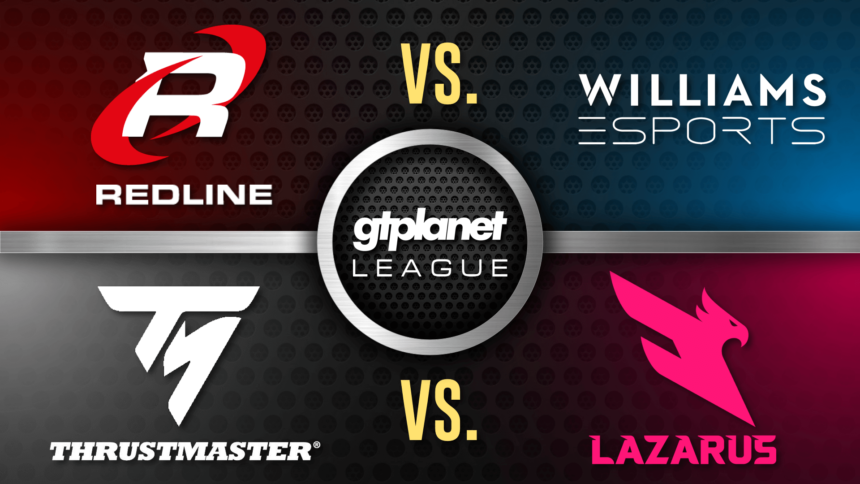 The day has finally arrived for the most anticipated match-ups in the GTPlanet League!
Only two battles remain in the opening round-robin phase, and each team has one final shot to secure a high seed for the elimination tournament next week. Two of the teams are undefeated and two have yet to win, so there is plenty on the line for each group of drivers. Need a refresher? Check out our official announcement which explains how the GTPlanet League works.
Click here to go straight to the live show on YouTube, or keep reading to learn more about the match-ups:
Thrustmaster (0-2) vs. Lazarus (0-2)
The first match during today's broadcast is between two power-house teams which — despite rock-star driver lineups — have yet to secure a victory.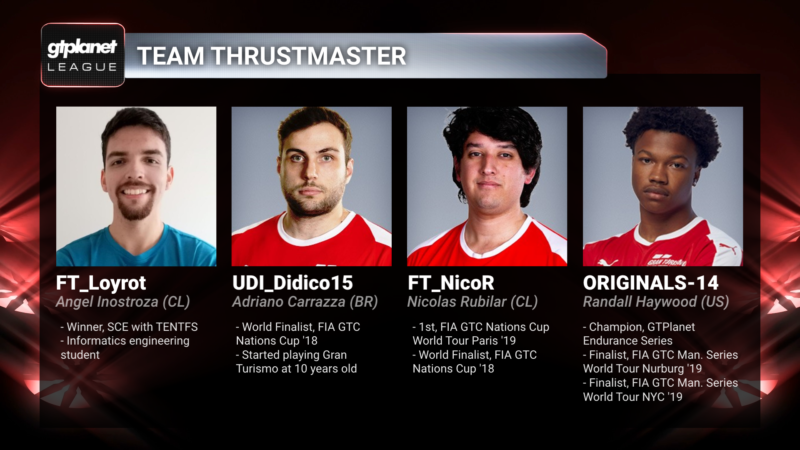 Thrustmaster has been extremely competitive in its matches with Redline and Williams, missing each one by only a few points and positions.
On paper, Thrustmaster may appear to be the stronger team heading into the match against Lazarus. It is lead by FIA GTC Nations Cup World Tour champion Nicolas Rubilar (FT_NicoR), who has proven himself to be the most dominant driver in the League. The Chilean has won an unparalleled four races, a feat made all the more impressive considering the reverse grids.
This is a team competition, though, and the rest of Thrustmaster's drivers will have to step up if they want to secure their first win of the season.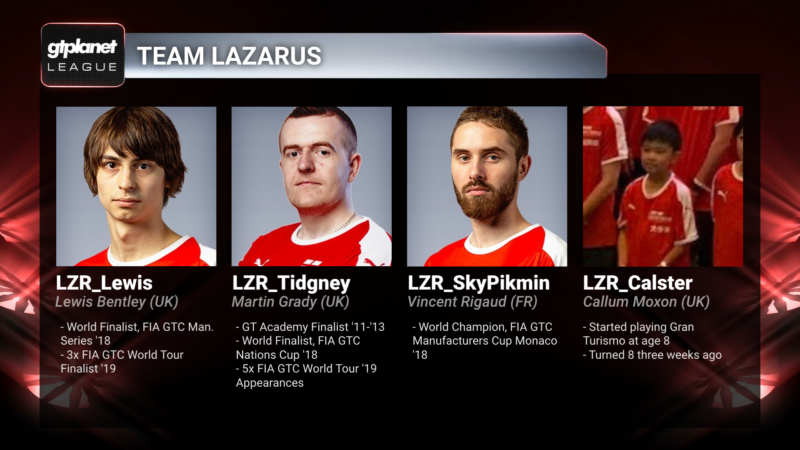 For Lazarus, the Canadian team which represents one of the largest and highest-grossing esports organizations in the world, the season got off to a rough start as they were soundly defeated by Redline in their opening match.
In their second match against Williams, it looked like things were going to go much the same way. They fought back hard in race 2, but Williams had scored the extra point available in the qualifying session. Lazarus lost, 37-38.
This match will be the first time Vincent Rigaud (LZR_SkyPikmin) — a reigning World Champion in the FIA GTC Manufacturers Cup — has suited up for Lazarus. He will be joined by an experienced squad led by one of the best drivers in the League, Lewis Bentley (LZR_Lewis), who has two race victories to his name.
Redline (2-0) vs. Williams (2-0)
The second match of the day is between the two strongest teams in the League, both of which remain undefeated. In terms of match-ups, it doesn't get much better than this, as each team looks to assert its dominance.
After destroying Lazarus in the first match, Redline had to fight much harder for victory in the second. In a wild final race against Thrustmaster, the outcome was ultimately decided by penalties as drivers crossed the finish line on the final lap.
So far, the team has been led by Manuel Rodriguez (TRL_MANURODRY), who has proven himself one of the fastest drivers in the League with two outright victories. He has been supported by his teammate, FIA GTC Nations Cup super-star Mikail Hizal (TRL_LIGHTNING) who was never far behind.
Neither driver is able to race for their team this week, but their replacements are equally impressive: Andrew McCabe (TRL_Doodle) and Daniel Holland (TRL_holl01) are both FIA GTC veterans and legendary Gran Turismo players in their own right.
Williams' victories in the GTPlanet League have been the result of some very close races, not settled until the final lap.
Like Redline, Williams will also be missing a few regulars from its roster, including one of the top drivers in the League, Carlos Salazar (pcm_stj) and FIA GTC Nations Cup star Coque Lopez (Williams_Coque14).
Also like Redline, Williams' reinforcements are no less formidable. One of the fastest Gran Turismo players in Hungary, Patrik Blazsan (Williams_Fuvaros), will make his League debut with fellow FIA GTC World Finalist Valerio Gallo (JIM_Bracer26). They will join World Tour stars Adam Suswillo (Williams_Adam41) and Giorgio Mangano (Williams_Gio) to make a very formidable line-up.
How to Watch
The matches between both teams will be streamed live on GTPlanet's YouTube channel, via the player above, starting at 18:00 UTC. Click here to convert to your local time zone, or just subscribe and turn on notifications to be notified when we're live.
Best of luck to all the teams, and stay tuned — there are more surprises to come in the GTPlanet League over the next few weeks!
More Posts On...