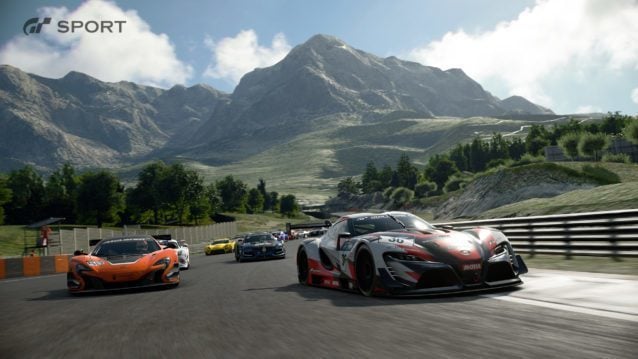 April seems an appropriate time to say this: when it rains, it pours. We've been bombarded with GT Sport news today — the EU beta access, the momentous unveiling of Porsche — and here's the final piece of the puzzle: three new tracks are coming to GT Sport.
We should preface this with the warning that we don't know which, if any, of these will be making their way into the recently-updated Closed Beta Test Version. But without further ado, say hello to Blue Moon Bay, Dragontrail Seaside, and Sardegna Windmills.
Blue Moon Bay
As many accurately predicted when we first caught a glimpse of it yesterday, Blue Moon Bay is indeed the second oval to be found in GT Sport. A longer circuit than the current Northern Isle Speedway, Blue Moon Bay looks to be closer to intermediate or even Superspeedway status.
Look closely and you'll spot Nissan's controversial GT-R LM Nismo amongst the pack, the first time the car has been spotted in official screenshots.
Dragontrail Seaside
A picturesque circuit featuring substantial elevation changes, Dragontrail Seaside appears to align with the original mystery circuit spotting. Not to be confused with the "Tail of the Dragon" (the 318-corner mountain pass in North Carolina), Dragontrail seems to offer a greatest-hits approach to all of the guesses the GTPlanet community had.
Hints of El Capitan? Check. A bit of Matterhorn/Eiger influence? Check. Even a bit of Polyphony's mammoth Circuito de la Sierra can be detected. The surprise here is the run along the coast — though we suppose it is in the name. Expect a lot of Photomode ops here.
Oh yeah: peak behind the McLaren 650S in the header image up top (or in the eighth thumbnail). It seems the Gr.3-spec Viper is still a little shy after it was spotted months ago.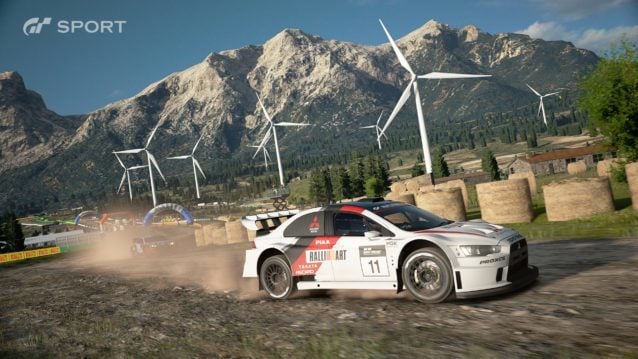 Sardegna Windmills
Fishermans Ranch gets a much-welcome companion in the second dirt track for GT Sport. Based in Sardinia, this rally track looks like an altogether smoother experience than the yumps-and-bumps Ranch, though we don't know much about what awaits beyond the main straight. This does include a confirmation of night racing on the dirt though.
For those keeping score at home, this brings the known location count to nine (out of nineteen). Provided these three new PD-designed circuits don't have multiple layouts, the variation count is up to 11 out of 27.
For more on these new locations, as well as other GT Sport news, stay tuned to GTPlanet.
See more articles on GT Sport Tracks.