A dozen players will have another chance to qualify for the 2021 International GT League World Series today, and you can catch it live right here on GTPlanet.
Organized by a group of GT Sport's best drivers, the IGTL stages this championship for players who have reached the top A+ ranking in the game. It's the second season for the World Series after a successful 2020 event which saw the high entry standard rewarded with high quality, high speed racing.
That's persisted through the four Selection Events we've seen this year, and so far we've seen eight drivers qualify. Quinten Jehoul and Nicolas Romero headed through from the GT Nostalgia race, with Edward Williams and Christian Malkii surviving in the Americas Classic.
Two weeks ago it was the turn of Will Murdoch and Tristan Bayless, who conquered the Vintage Challenge, with Miroslaw Kravchenko and Thomas Labouteley winning in the Midnight Expressway.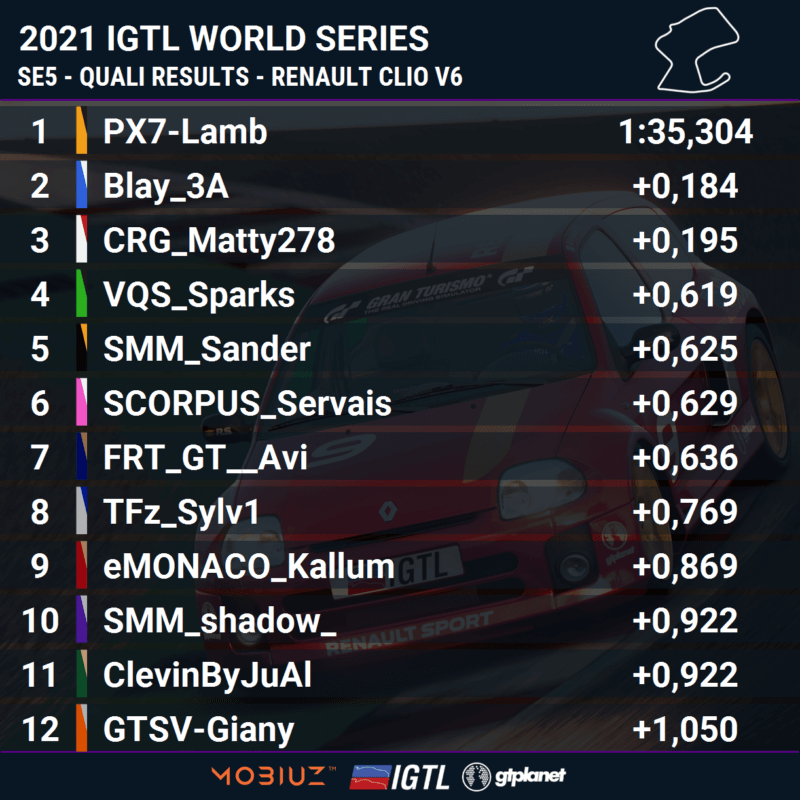 This week's event will take players to WeatherTech Raceway Laguna Seca, where they'll have to tame the rather wayward Renault Sport Clio V6. Just to make things more challenging, the car is tuned up to match Clio Trophy specs, with far more power and far less weight, and only Sport Soft tires to rein it in.
Such is the level of competition in IGTL that the participants this week will include a Gran Turismo World Champion. Daniel Solis, who was part of Team Subaru that won last year's Manufacturer Series, predictably set the fastest time in qualifying yesterday, but he's not completely clear of the chasing pack.
After today's event there'll only be one more chance to qualify for the main GT3 series. The race broadcast starts at 19:00 UTC today, and you can catch all the action below:
See more articles on Live Stream.
Related Posts