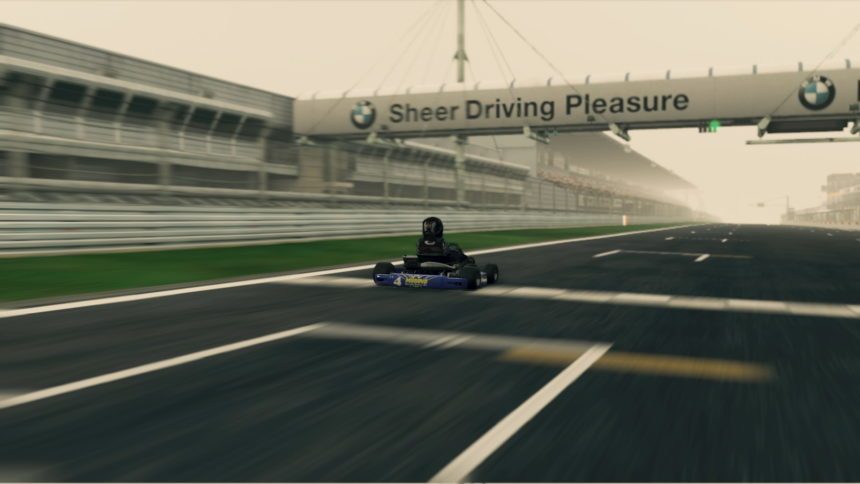 Two new Community Events have been added to Project CARS 2. Keeping the theme going from last week, one of the events features a kart on an unlikely track. You might want to set some time aside for this one.
The expertly named "Karting Hell" challenge features a Kart on the Nurburgring. No, not the GP circuit or even the Nordschleife but the full combined layout. This is one of the largest challenges to date on Project CARS 2 and we get a feeling this is one for only the most dedicated players.
Adverse weather returns for this challenge too, with a heavy sheet of fog lining the German track. If karting on ice last week was too tame for you, this should certainly scratch that karting itch. Good luck to anyone brave enough to give this one a proper go.
There's a more traditional event too if 10 minutes or so per lap isn't something that interests you. The Megane Touring Car and Oschersleben combine for an Easter special event. A light cloud dusts the sky but otherwise it's just the driver and the road. Compared to the almost torturous nature of Karting Hell this is more in line with previous events. We've got a hunch that the touring car challenge will see more attempts than the karting combo.
Both challenges last from March 26 until April 2. Full event details are listed below.
Karting Hell
Track: Nurburgring Combined
Car: Kart
Weather: Fog
Class: Karting
Minimum Grade: U100
Fixed Setup: No
Oschersleben Easter Special
Track: Oschersleben A Course
Car: Renault Megane R.S SMS-R Touring
Weather: Light Cloud
Class: Touring Car
Minimum Grade: U100
Fixed Setup: No
More Posts On...