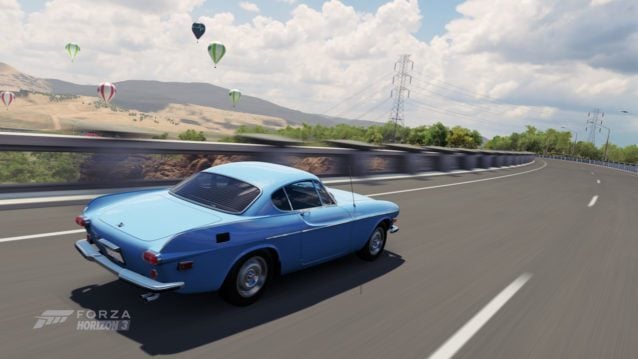 Amidst the leaks that have outed all sorts of interesting cars, Forza Horizon 3 has gained another free, new-to-franchise car. The latest barn find was tucked away in the title update that came alongside the Rockstar Car Pack, and reports quickly announced the new car as none other than the 1972 Volvo 1800E.
Automotive aficionados will recognize the 1800E as part of the family of Volvo models made famous by Sir Roger Moore. Before he was Bond (James Bond), Moore played Simon Templar on the popular 60's TV show The Saint. Templar's transportation of choice was a 1962 P1800, an earlier version of the car now available to FH3 players — and rather confusingly built by Jensen.
The 1800E produces 130 bhp, an impressive figure for a 45 year old 1.8L engine. The car was designed by Pelle Petterson, the Olympic-medalist son of of the man behind the project, Helmer Petterson. A 1966 1800S currently holds the Guinness world record for highest mileage: Irv Gordon took his car past the 3,000,000 mile mark in September 2013!
Forza players are unlikely to match Gordon's mileage, of course. In fact, PC players will have to wait: following the update snafu we covered yesterday, that version of the game has been rolled back to a pre-Rockstar Car Pack state until Turn 10 has a fix available. We'll update you as soon as that's sorted.
Forza Horizon 3 is currently available for Xbox One and Windows 10 platforms.
More Posts On...