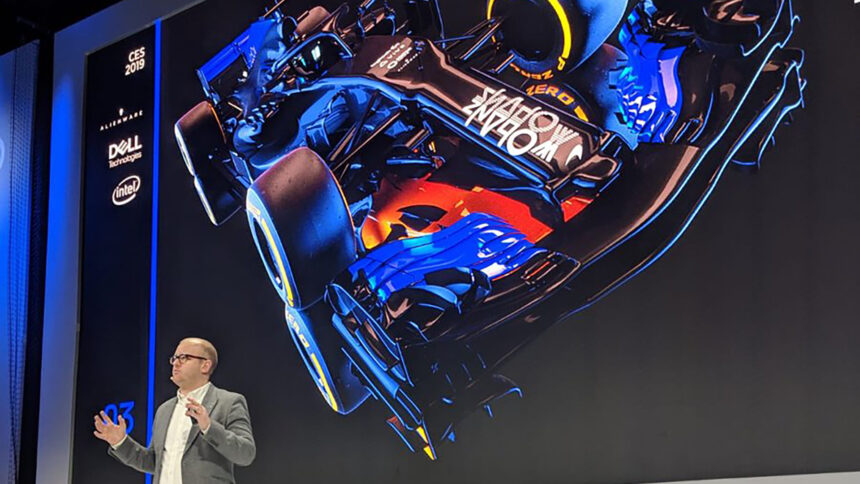 The latest proof that racing esports are on the up comes from McLaren. According to the British car maker, over half a million gamers took part in its multi-platform McLaren Shadow initiative.
This comes courtesy of Ben Payne, head of McLaren's esports division, who's in attendance at CES 2019 in Las Vegas. Payne was on stage to talk about McLaren's esport program, and with that player figure, he called it the "biggest racing esport competition on the planet."
It's a bold claim, but we see where Payne and McLaren are coming from. While both GT Sport and F1 2018 had big viewer numbers with their respective esport events in 2018 (over 3 million and 4.4 million, respectively), those weren't participant figures. And in both cases, the single-title nature of the events limited the maximum reach of the competition. If you wanted to take part in either, well, you had to own GT Sport on PS4, or F1 2018 on one of its platforms.
McLaren Shadow cast a wider net. Not only did the series go multi-platform, it went multi-discipline too. The competition used qualifiers from Forza Motorsport 7, Project Cars 2, iRacing and rFactor 2. That quartet alone would allow for considerable figures, but arguably the biggest contributor would be EA's Real Racing 3 mobile title. Being free-to-play, RR3 guarantees a low price of entry for interested parties: who doesn't have a smart phone?
The culmination of all of this will take place very soon, too. Seven finalists will converge on McLaren's Woking HQ next week for a multi-day shootout to determine the winner, who will end up with a spot on McLaren's esport development program:
Ebrahim Almubarak, Bahrain, qualified via Atyaf eRacing
Miguel Ballester, Spain, qualified via Forza Motorsport 7
Henrik Drue, Denmark, qualified via Real Racing 3
Igor Fraga, Brazil, qualified via the Logitech G Challenge
Xiang Gao, China, via HTC Vive
Marcus Jensen, Denmark, via iRacing
Nuno Pinto, Portugal, via rFactor 2
The drivers will compete across all of the titles the Shadow initiative has used over the past few months, in addition to a go in the McLaren simulator. The PCARS2 portion will even use that fancy new HTC Vive headset McLaren announced late last year. To finish it all off, they'll head to the track at Dunsfold to get behind the wheel of a McLaren 570S GT4 race car.
With Igor Fraga winning the inaugural GT FIA Nations Cup, we'll certainly be keeping an eye on the Brazilian. He's already proven he's fast in more than one title — the Logitech G Challenge used PCARS2 — so we're curious to see what else Fraga can excel at!
Payne had this to say on the team's second esport initiative in as many years:
"We've been blown away by the number of talented gamers who have taken part in the competition this year. We've created the most open and inclusive racing esports tournamanet on the planet, with players competing on multiple platforms on the biggest games. This year, more than ever before, the competition shadows McLaren's real world. We're treating them as we would one of our Formula 1 drivers, and this is reflected in the challenging week-long Shadow finals. The semi-finals had me on the edge of my seat so I can't wait to see what the final brings."
Rudy van Buren, the man who won 2017's World Fastest Gamer, chimes in:
"This competition changes lives. 12 months ago I was a kitchen salesman in Lelystad, Netherlands. Since then I've become a simulator driver for McLaren, driven a world championship-winning F1 car at Goodwood, raced and beaten a Le Mans winner at the Race of Champions and given VIPs the thrill of a lifetime in McLaren supercars during Formula 1 race weekends as part of McLaren's involvement in the Pirelli Hot Laps experience. My advice for the finalists is race hard and stay focused, the possibilities are endless."
The action starts next Wednesday, January 16 via livestream. Stay tuned for more details on McLaren Shadow.
More Posts On...