Players of Gravel can look forward to a steady stream of new content for Milestone's off-road racer. We've now got more details on the DLC plans for the game, and they involve both new cars and additional events.
Of course, some of the post-release content is already available. We first covered the Season Pass last month, which includes five separate DLC packs. One of them — the Porsche duo — was actually a pre-order bonus for early adopters as well. Two new vehicles have also appeared in-game since launch: the Bowler Bulldog and Acciona 100% Ecopowered — the first zero-emission vehicle to complete the Dakar.
Here's what else is coming between now and early June: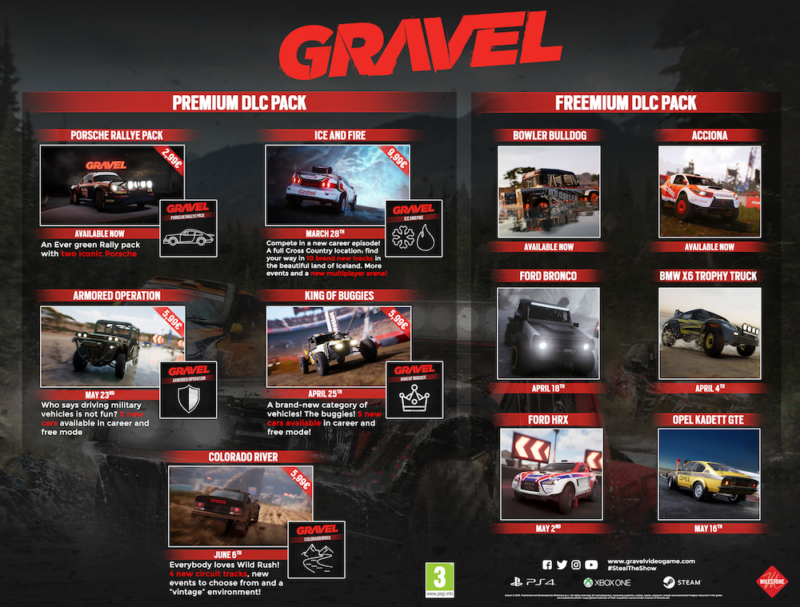 Premium DLC Packs
As we mentioned, the Porsche Rallye Pack is already available. The next DLC expansion touches down in less than a week, on March 28. The "Ice and Fire" pack introduces Iceland to the Gravel tour. Bringing along 10 new tracks, plus more events and a multiplayer arena, it will cost 9.99€. You can check out the latest trailer below:
After that, another expansion will arrive four weeks later, on April 25. The "King of Buggies" introduces — you guessed it — buggies, bringing five of the agile little vehicles into the mix.
Following the same four-week pattern, "Armored Operation" certainly should be unique. This vehicle-oriented pack is all about military vehicles, something we don't see often in the genre. Given Gravel's rough-and-tumble nature, we're very curious to see how these rides blend in.
Last on the list is the "Colorado River" pack. Much like the upcoming Ice and Fire expansion, this focuses on more environments. Milestone lists a "vintage" environment amongst the additions … curious.
Freemium DLC Vehicles
A handful of standalone cars are also coming. After the Bulldog and Acciona, the next is the BMW X6 Trophy Truck. It sticks its landing on April 4. A Ford Bronco jumps into the fray two weeks later, on April 18.
This quick-fire approach continues into May, with a Ford HRX kicking off the month. This unusual looking vehicle is powered by a Mustang V8 engine, so it should provide a rocking soundtrack as it races across the environments of Gravel.
The last car is a treat for fans of classic European metal. The Opel Kadett GTE was a mainstay of the rally scene in the '70s, but is sadly a rare sight in modern racing games. Luckily, Gravel fans won't have to worry about that. Milestone will release the Kadett on May 16.
Still on the fence about Gravel? We found it a fun (if flawed) old-school arcade romp in our review. Check it out here.
Thanks to GTPlanet member er185es for the tip!
Featured image courtesy of FT-1.