It's the end of an era. For almost as long as we've been a website, it's been understood that Porsche, that most desirable of German marques, was the (more-or-less) exclusive domain of Electronic Arts. Sure, earlier Forza titles had them — and later ones did too, if you paid the extra asking price for DLC — but outside of that, you pretty much had to play a Need For Speed title to drive a car from Dr. Ing. h.c. F. Porsche AG (to give it its full name).
That's all about to change.
Speaking to Porsche Branded Entertainment Manager Sebastian Hornung at a recent event in partnership with Kunos Simulazioni, German website SpeedManiacs.com asked how the Assetto Corsa developer managed to secure the license. The (translated) answer gets right to the point:
"According to Sebastian they were also always following what was going on in the gaming industry aside from EA. The license with EA runs out this year, because together they arrived at the realization that the current situation was not desirable anymore."
We've heard rumblings of this before, shortly after the brand returned to the Forza franchise with 2015's Porsche expansion in Forza Horizon 2. At the time, the theory was that the exclusive deal expired in 2016, which was why gamers had to wait until this year for the manufacturer to arrive in Forza Motorsport 6. But this is the first time we've heard confirmation from Porsche themselves that the deal, in its current form, is done.
Of course, there's also Assetto Corsa itself. Much has been made of the special relationship between Porsche and the sim racer, with three separate DLC packs featuring highlights from across the marque's history (the final one is set to arrive on PC next week).
That's just the tip of the iceberg, too: Kunos Simulazioni has set up the Pro version of its simulator at Porsche Experience centres across the globe, letting fans enjoy realistic virtual versions of the lineup before heading to the track and experiencing the real thing.
Those fearing one exclusivity deal has simply been traded for another can rest easy. "The relationship also with other game developers will change," says SpeedManiac's Sebastian Gerhart, "after 10 years of absence from pure simulations there is a desire to diversify what is being offered."
Indeed, other game developers are (understandably) eager to include Porsche. Shortly after Kunos' initial announcement, Slightly Mad Studios' Ian Bell teased the brand's inclusion in the upcoming Project CARS sequel. Playground Games has accidentally shown off a Porsche in Forza Horizon 3's menus, too.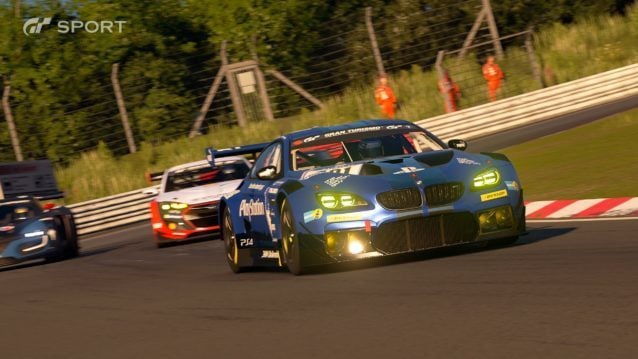 Then there's the 800lb gorilla of the console racing market: Gran Turismo. GT Sport is set to arrive at some point in 2017, and as the most racing-oriented title in franchise history, including the winningest manufacturer in sports car racing makes almost too much sense. It wouldn't even be the first time Porsche has appeared in a GT title, either: Kazunori Yamauchi has long been a fan of the brand, and had his personal 996-era GT3 modelled in-game in Gran Turismo 3.
It's an exciting time for sim racers on all consoles, as this news means it's entirely possible that, by this time next year, we could be enjoying Porsche in as many different titles as we do with companies such as Ferrari, Nissan, and others. Roll on, 2017!
Huge thanks to snowgt for bringing the news to our attention, and translating!
See more articles on Electronic Arts, Kazunori Yamauchi, Kunos Simulazioni, Porsche, and Slightly Mad Studios.