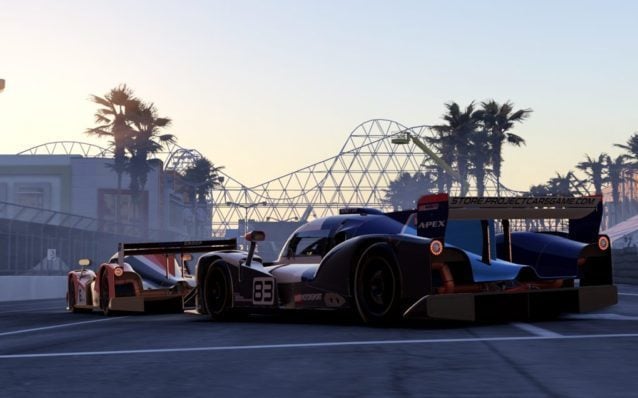 Slightly Mad Studios continues to reveal hints and photos of new cars that will greet players of Project CARS 2 when it launches this year. Unlike the last batch of additions, the latest one pursues nothing but high performance, featuring the Ginetta G57-P2, Jaguar F-Type SVR, and McLaren P1 GTR.
Despite looks straight out of the pit lane at Le Mans, the Ginetta G57-P2 was built with track days in mind. The machine is powered by a 6.2-liter engine courtesy of Chevrolet. In its basic state the engine delivers 430 hp, and was used in the C6 Corvette and several Holden models. Weighing 1984 lbs, the G57-P2 qualifies for several real-world series including VdeV, and should prove a scorcher.
With the legendary XJ220S already included in the PCARS2 roster, fans of Jaguar can only become happier with the new F-Type SVR scheduled to join in. The raging cat produces over 575 hp from an uprated version of the supercharged V8 found in the "regular" V8 S and R models. This is currently the fastest F-Type model in production, no doubt aided by the all-paw drivetrain maximizing traction in inclement weather.
Last, but certainly not least, the Mclaren P1 GTR. This speed-freak pays tribute to the McLaren F1 GTR's outstanding 1-3-4-5 victory at the 1995 Le Mans 24 Hours. Only 35 units of this monster have been produced. Through a combination of 3.8-liter V8 and electric motors, the P1 GTR produces 987 bhp. Alongside numerous detail changes over the road-going P1, the GTR will be one of the fastest cars in Project CARS 2.
The P1 GTR won't be the newest McLaren available in-game. At the Geneva Motor Show last week, the company took the wraps off the McLaren 720S, simultaneously announcing the new "Super Series" car will be available in Project CARS 2 from day one.
Want to know more about Project CARS 2? Stop by GTPlanet's Q&A with Ian Bell thread to hear more on the game's development straight from the team itself. Stay tuned for more news as the game's late 2017 release draws closer.
More Posts On...