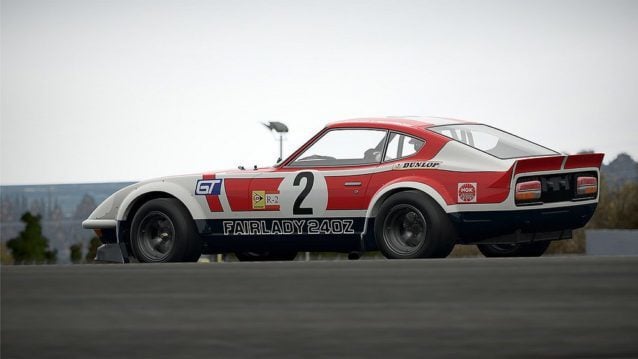 As the release of Slightly Mad Studios' Project CARS 2 edges closer and closer with each passing day, the marketing team has taken to the social media channels in full effect, giving us an insight as to what cars are coming into the new sim-racing title.
First spotted within the leaked launch trailer along with other notable vehicles, the illustrious 1973 Nissan Fairlady 240ZG GTS-II is officially confirmed to appear within the game. With its success borne from its triumphant victory at Fuji in 1972, grasping the first-place finish against eye watering machinery such as the Ferrari 512 M and McLaren M12, its place within the car list is more than justified.
Joining the classic Fairlady are more motorsport pearls of the Japanese manufacturer; the Nissan GTP ZX-Turbo and the The Clayton Cunningham Racing 300ZX. Both of these racers grew their success from their highly successful IMSA campaigns in the eighties and nineties.
The GTP ZX-Turbo was the first car to defeat the Porsche 962 which had dominated IMSA's premiere GTP category many-a-time. The 300ZX was a own dominant force within the lower GTO class, with its overall 24 Hours of Daytona win and class win at the 24 Hours of Le Mans.
Sticking with the Nissan theme, the recently-released 2017 Nismo GT-R is also slated for inclusion. Sporting a newly refreshed interior and exterior, the four-wheel-drive V6 monster is just as good to look at inside as it is on the outside. Sporting a twin-turbo 600 hp V6 and all-wheel-drive system, the Nismo GT-R is a dreadfully quick vehicle that will still catch out the unwary despite its numerous futuristic gadgets.
Sliding to something completely different is the reveal of the brute above; Vaughn Gitten Jr.'s Ford F150 "Ultimate Funhaver". The not-a-Raptor should prove itself useful on the game's numerous off-road tracks.
Those looking for a more traditional motorsports offering from the Blue Oval will be happy to read the Le Mans-dominating GT LM GTE-Pro will be included as well, after it was confirmed via the official Project CARS Twitter.
The stark contrasts in racing discipline give an insight into the massive range Project CARS 2 will be able to cater to. Branching from vintage J-Tin to legendary Le Mans prototypes and racers, to exotic supercars like the brand new McLaren 720S, all the way to massive American trucks, Project CARS 2 certainly has every corner of both the world, and the sim-racing community down-pat.
Project CARS 2 is scheduled to launch late 2017 on PlayStation 4, Xbox One, and PC.
See more articles on Ford GT, Nissan, Nissan GT-R, Project CARS 2 Car List, and Slightly Mad Studios.