Following from the surprise trailer release for Project CARS 3, Slightly Mad Studios and publisher Bandai Namco have gradually given out more information on what we can expect to see from its upcoming sim racer. We've compiled a quick rundown of what we know so far, so let's dive in.
Over 200 Cars, 140 Tracks
Project CARS 2 included a bumper roster with over 180 cars and 140 tracks in 60 locations. Now Project CARS 3 looks set to expand on that already extensive list. The newest official website states that the roster is set to include over 200 cars.
We can expect the majority of the car list to be carried over from pCARS 2 along with new additions. The reveal trailer gave us a glimpse into just a tiny handful of new cars set to arrive.
The big debut of course, comes from the new 2020 Chevrolet Corvette C8, along with its racing counterpart in the C8.R. Players will have also seen the return of the Porsche 935, and another debutant: the McLaren 570S GT4.
Another new car set to arrive is the Toyota GR Supra. Although pCARS 2 also included Toyota models, this was at the beginning of a turbulent period where the marque would be absent from other racers. PC3 mark the first major racing game title outside Gran Turismo Sport that will feature the GR Supra.
An extensive car list is nothing without circuits to drive them on. According to SMS, pCARS 3 will feature "over 140 global tracks". It's unclear if this refers to track layouts or actual locations, but we would bet on the former right now.
Thus far, we can count on two confirmed circuits: Autodromo Jose Carlos Pace, also known as Interlagos; and the Bannochbrae road circuit in Scotland. SMS studio head Ian Bell also confirmed a scratch-built Shanghai circuit with multiple layouts on our forums.
A More Accessible Experience
One of the main criticisms players had for pCARS 2 was a difficult experience playing on a controller. Now though, according to game director Paul "Rushy" Rustchynsky, things are about to change.
Can confirm, pad controls are sublime. https://t.co/cRuj9G9BwX

— Paul Rustchynsky (@Rushy33) June 3, 2020
SMS is putting lots of effort into making pCARS 3 more accessible in order to attract a broader audience. Rushy describes the revamped gamepad controls as "sublime", which should be good news to players hesitant on spending money on a racing wheel.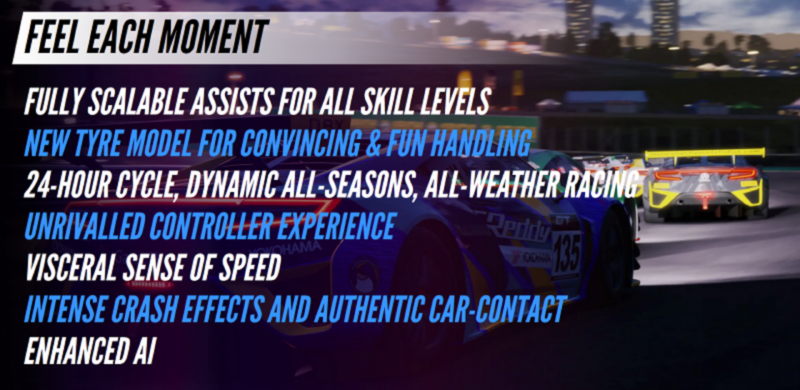 Gameplay is also set to be tweaked for greater accessibility. Driving assists will be fully scalable and players will be able to dial in towards their preferred driving style.
SMS also states that it has revamped PC3's tire model to give more "convincing and fun handling". The studio's online marketing director Nathan Bell has assured players that it has not downgraded the handling model from the previous game, addressing fears that the game appears less sim-like from early footage.
Enhanced Career Mode
As for a career mode, that's also set for a major overhaul in pCARS 3. Players will go on a curated journey through the best cars and tracks on offer. There'll be ten car classes to work through, with players starting in beginner road cars.
The changes to the career mode are in-part to encourage newcomers, including new in-game objectives with rewards scaled to match your skills. Completing races and objectives will earn players experience points and currency to spend. Players can use that money they've earned to buy new cars and move to the next class.
SMS has also confirmed that there will be no microtransactions and that in-game money will be earned through playing the game. The post-launch situation in regards to microtransactions remains up for debate.
New Customization Features
Car customization is set to play a prominent role in progressing through pCARS 3. New performance parts and different packages will affect how your car drives for a particular series you enter. These new upgrades will allow you to enter one car in multiple series as you go through the career.
Right now it's unknown what shape these performance packages will take. Ian Bell stated back in 2018 that pCARS 3 would be the "spiritual successor to Need for Speed Shift", hinting that the new upgrade packages are likely to take inspiration from the 2009 title.
Players will once again be able to choose from a range of preset in-game liveries for their chosen cars. Although not explicitly confirmed, the reveal trailer also hints at the inclusion of a livery editor.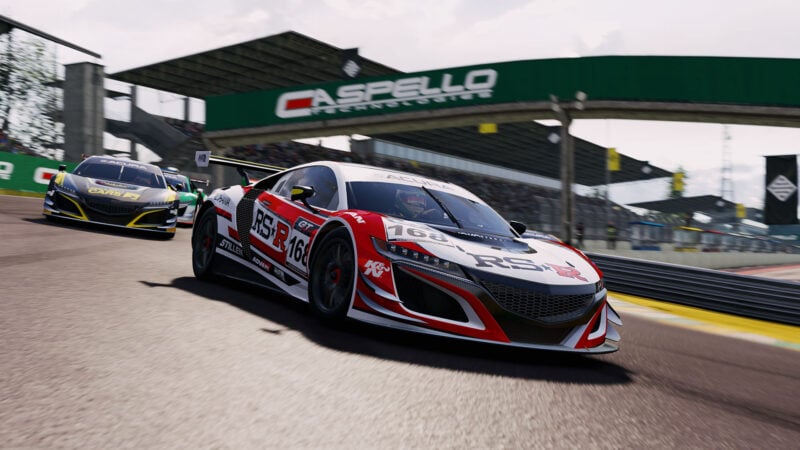 Multiplayer, Community Event Changes
Some of the biggest changes to pCARS 3 will come from the multiplayer and community events.
Multiplayer is now set to include skill-based matchmaking for those after a quick online race. Players will now have a greater chance to race against equally skilled opponents, thanks to refinements to the online racing license system.
There will also be weekly "scheduled events" in multiplayer. We do not know the extent of how these events will work, but the premise looks to take a leaf out of Gran Turismo Sport's Sport Mode book.
SMS has done away with the popular community events for a new mode called Rivals. This aims to appeal to players that were put off by the nature of the past community events.
Rivals will include daily, weekly and monthly challenges, with leaderboards now split into divisions. SMS reckons these changes will help to encourage people to aim for divisions they feel more competitive in. As you improve your times on track in Rivals, the game will automatically select a new ghost time from your closest competitors on the leaderboards.
You'll also be able to earn Rivals Coins and XP after each challenge in Rivals mode. Leaderboards will reset at the end of each month, with promotion and relegation between divisions also on the cards.
Closing off on the major talking points of Project CARS 3, we wait with great interest to see if SMS can truly entice a larger audience whilst retaining the deep simulation elements for veteran players.
Be sure to stay tuned for more information as we get it over the coming weeks. For more community discussion, be sure to stop by GTPlanet's new dedicated Project CARS 3 forum.
See more articles on Project CARS 3.