Sector3 Studios' J-F Chardon revealed the developers' plans for the future of RaceRoom Racing Experience over the weekend.
The thorough developer notes, posted at Race Department, mostly stuck to the physics side of the equation. Chardon was quick to note that while all of the changes — including adjustable tire pressure, flat spots, and more — are in development right now, players shouldn't expect them in the very next patch.
That's not to say there isn't content coming to R3E very soon. The next update will feature three new cars, two of which hail from the Group C era. The famous prototype class could expand further too, based on another of Chardon's comments.
So what does Sector3 have planned in terms of under-the-hood tinkering? Read on for all the details.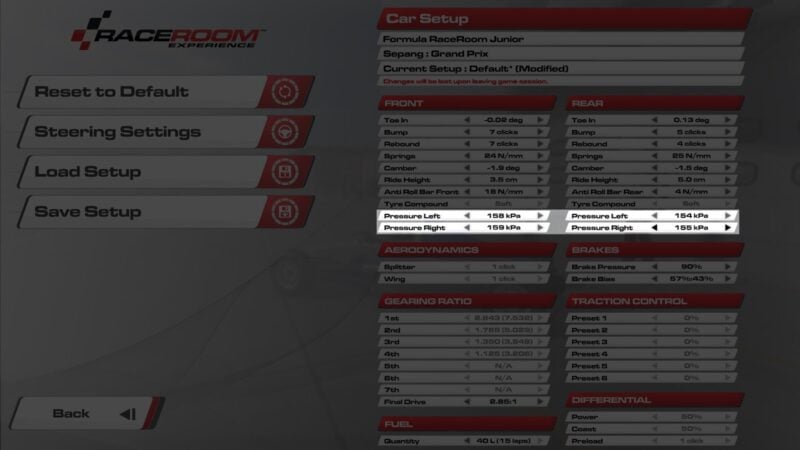 Adjustable Tire Pressure
Right off the bat, Sector3 addresses a popular request with adjustable tire pressure coming to the title. With this, players will be capable of shaving off precious tenths of a second for their quickest lap times.
Because it lends itself to such variance, the team wants to ensure its effects don't lead to any exploits. That means plenty of testing and development under the hood, and as a result, the feature will be enabled on a per car basis. New cars will take priority, as well as car classes receiving physics overhauls, and those cars that are popular with the player base.
The list of cars currently in beta with the feature is as follows:
Formula RaceRoom Junior
Unannounced Formula car
Touring Classics
WTCR
Porsche 911 GT3 Cup (991.2)
Porsche 911 Carrera (964)
GTR2
GT4 Clubsport Trophy
Group C
Group 4
Mercedes DTM 1995
The eagle-eyed will have spotted the unannounced Formula car as something to look forward to. If Sector3's J-F Chardon's Twitter post is anything to go by, the car in question may be based on a 1990s-era F1 chassis.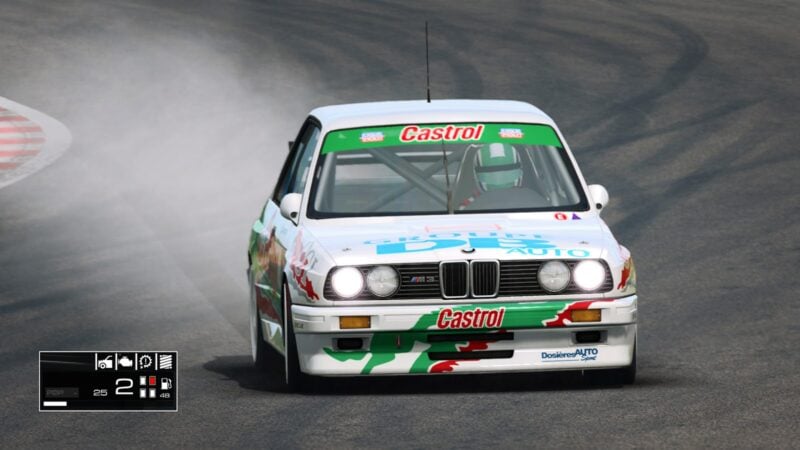 Flat Spots
Motorsport fans are more than a little familiar with this feature. Flat spots are, as the name implies, a flat surface on the tire caused by locking the tires for too long. The end result affects tire wear and grip, and has the knock-on effect of locking the tire(s) up more easily, leading to a puncture.
It's a robust feature when you stop to consider what's required behind the scenes. The team is currently testing flat spots for bugs, and is also collecting feedback on how easy it is to cause, how the affected wheel(s) vibrate, the sound, etc.
Here's the list of cars currently in beta with the feature:
DTM 1992
Formula RaceRoom Junior
Group 4
Group C
GT4 Clubsport Trophy
GTR2
Porsche 911 Carrera (964)
Porsche 911 GT3 Cup (991.2)
WTCR
Touring Classics
Unannounced Formula car
Suspension Damage
Upping the "Get Real" factor one step further, a new system that will accurately render the effects of bent axles and broken springs is also on the docket. Collisions will affect individual suspension parts, thus affecting the handling of the car — dramatically so depending on the damage.
Seen in action above, it goes without saying this could make competitive racing all the more exciting. As it stands, S3S is reviewing the code and making changes where needed. Such examples include damaging the drivetrain if the collision affects a driven wheel.
Also, a bigger risk of tire puncture (dependent on wear) when colliding with other cars, driving on dirt, gravel or grass, and other on-track debris.
Revision of Damage Settings
With the above features having such a profound affect on racing, the option to disable it all is a welcomed one. Once those options are in place, the team looks to give players options of what's on and off similar to the following:
Damage setting: None – Minimum – Complete

None = no visual damage, no mechanical damage, no punctures, no flat spots, no parts falling off.
Minimum = mechanical damage and visual damage are on. No punctures, no flat spots, no suspension damage or wheels falling off
Complete = everything on
Dedicated Server Features
This is simple and to the point. The team is aware features are lacking and are not only looking to fix this, but add new ones.
Those features are:
Session info block:

Added list of connected players with their user ID, with a live count of their incident points.
Added ability to kick a certain player out
Added current session and timer
Added a "Next Session" button and a "Restart Session" button

Car selection list:

Added car specific weight ballast (for your personal BOP adjustments)

User management block:

Added user specific weight ballast (for leagues with success ballast)
Added management of banned users
Weight penalties will be visible from the game via the addition of ballast in the timing screen, as seen above.
Shared Memory API and Fanatec SDK Updates
The next update will break third-party apps that make use of the game's shared memory Application Programming Interface (API). On the upside, it will expose even more telemetry-based options, and extend the possibilities for apps and overlays.
On the other hand, there's what the team is doing with Fanatec. Sector3 is working with the peripheral maker's latest Software Development Kit (SDK) to make use of any and all new features, such as special switches or displaying yellow flag warnings through the steering wheel's LED lights.
Support Web-Based In-Game Overlays
Sector3 will be adding a transparent web page on top of the game to display in-game data as it's relevant. With this comes the possibility for fully-customizable HUDs and overlays.
Once shipped, the feature will include an example app that will show off many of the new capabilities. This one is worth looking forward to as it should allow for an authentic feel to player-organized racing series and leagues.
New Layouts for Oschersleben
Three new layouts were supposed to make way with January's ADAC GT update, but couldn't due to time constraints. The good news is the layouts for the German circuit are still on the way. Moreover, those that own the original circuit will enjoy the variations at no extra cost.
A Course (already available)
"Motorcycle" A Course (fast turn 1 chicane)
B Course (shortcut after turn 3)
"Motorcycle" B Course (fast turn version)
Physics Updates
It sounds like big things are going on behind the scenes for the DTM 1992 and Touring Car classes. There aren't many details to go on at the moment, other than the balance of performance (BOP) was sacrificed for the two classes. As such, the BMW M3 E30, present in both, will exist in two different specifications.
More on this will come at a later date, but there's something more that piques our interest. Sector3 is working to add support for electric vehicles in a very close partnership with a "major player in the industry". The first thing that immediately springs to mind is Tesla.
Things are heating up, indeed.
Photomode image courtesy of Ak1504.
See more articles on RaceRoom Racing Experience Game Updates.