Sector3 Studios is kicking the new year off on the right foot in the form of a new update now available for RaceRoom Racing Experience. It was just over a month ago the wild Porsche 934 showed up, and now it has some more modern company.
Weighing in at 2.3GB, the update introduces the obscure Czech-based Autodrom Most. What's more, the update brings with it 2018 livery updates for the ADAC GT Masters group of cars.
The highlight of the update is, without question, the inclusion of Most. R3E is the first racing title to include the under-the-radar venue. Opened in 1983, the 2.62-mile circuit became a staple of the ADAC GT Masters series last year.

With Most hosting the second round of the series, players are now free to recreate the season in its entirety. Moreover, when the 2019 season kicks off this April, fans can run alongside the series in real-time.
The 2018 ADAC GT Masters update sees S3S continuing its partnership with the series. With it comes a series of 2018 liveries and Balance of Performance fixes. Unfortunately, the bad news is the likes of Acura, Ferrari, and Lamborghini won't make the cut.
As per the words of developer Georg Ortner, there's still hope for 2019 and beyond. Nonetheless, five GT3 machines make up the ADAC roster: the Audi R8 LMS, BMW M6 GT3, Chevy C7 GT3-R, Mercedes-AMG GT3, and the Porsche 911 GT3 R.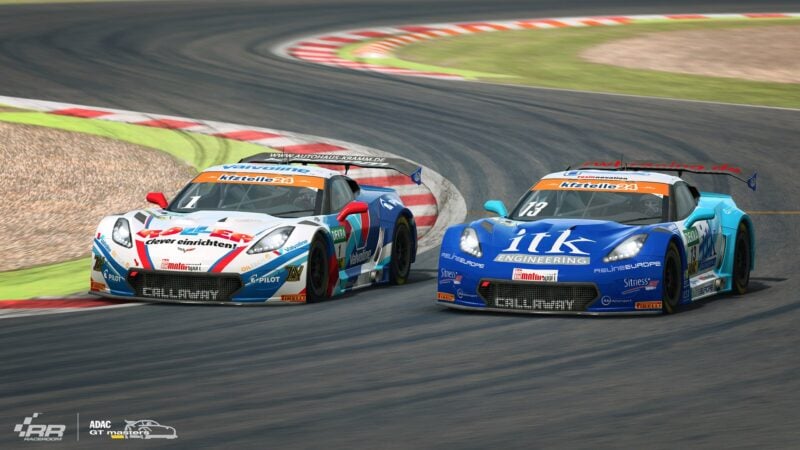 Between them, there are 28 liveries to choose from, with the R8 LMS leading the pack with a whopping 13 liveries. All are available in the 2018 ADAC GT Masters pack for $11.39 — 62% off the normal price. Most is a standalone purchase for $5.69, or 499 virtual Race Points (vRP).
For the full breakdown on everything included in today's update, have a closer look here.
See more articles on RaceRoom DLC and RaceRoom Racing Experience Game Updates.