Red Bull is the latest brand to join in the eye-wateringly expensive racing simulator market, with a new rig based on its 2022 Formula One World Championship-winning RB18.
Officially known as the "2022 Oracle Red Bull Racing RB18 Show Car Simulator", the rig is the front half of a 1:1 scale Red Bull RB18 show car and made out of carbon-fiber.
It's built by specialist memorabilia brand Memento Exclusives, which also works on the real thing. The company, founded by ex-Honda Racing F1 lead mechanic Barry Gough, built the full-size show cars for Alfa Romeo in 2022 and 2023, and makes the rig from Red Bull's own CAD data.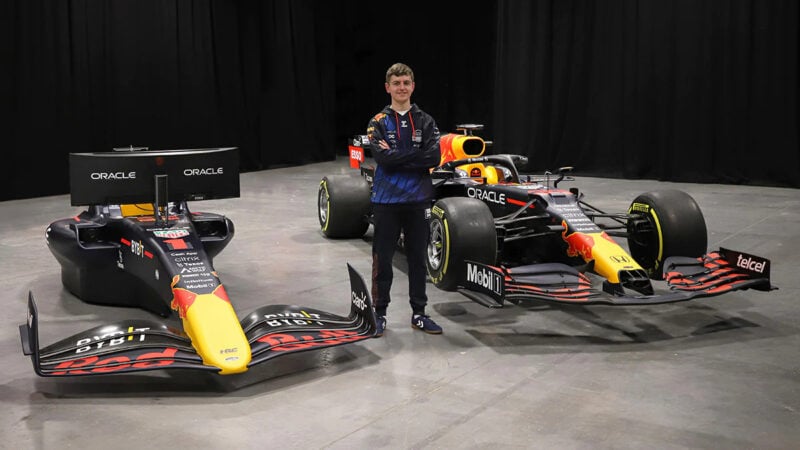 The rig comes in at over 13 feet long and more than four feet wide (over six feet if you specify the Champions Edition), coming in at around four feet high largely thanks to the extra-wide, curved AOC gaming monitor mounted on the nose.
Despite the carbon-fiber construction it's over 350 pounds in weight (160kg), so once you've identified a good spot to place it you probably won't be moving it again.
The official listing says that it "comes with everything you need to plug in and play", with "the latest gaming hardware" included. There's no further specifics — although the screenshots show a rather pricey Rexing Formula Wheel "Mayaris" which comes in at $1,400, so we'd expect the PC hardware and wheel base and pedals to be of similar price magnitude.
There's two editions available, with the Champions Edition sporting a full nosecone and front wing assembly over the Race Edition, and each is available with either the #1 Max Verstappen livery or the #11 Sergio Perez livery. A special plaque marks each example of the rig.
As for the prices, the Race Edition is listed at $93,075 (£74,999) with the Champions Edition hitting $124,101 (£99,999. And that's before shipping, which is £500 to locations in the UK and a pretty steep £16,500 plus taxes ($20,000).
Should you be able to afford it, you can buy the RB18 rigs now exclusively through the official F1 memorabilia site F1 Authentics — operated under licence by Memento Exclusives itself — with first deliveries expected in April.
See more articles on Formula One and Red Bull.