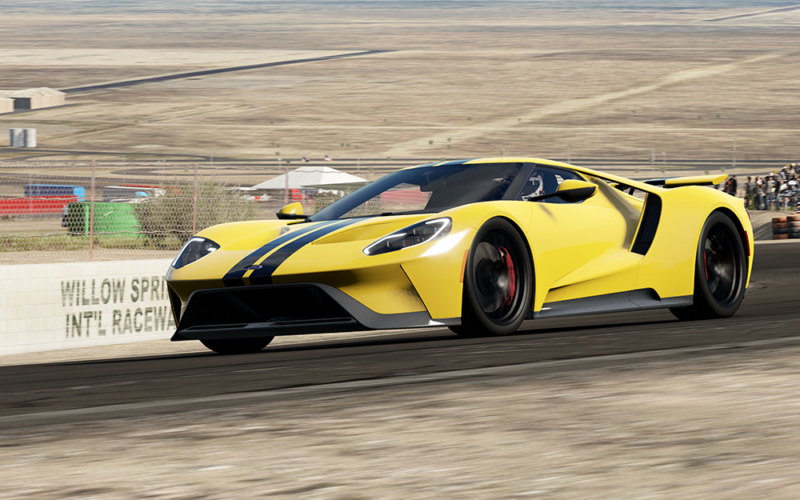 Slightly Mad Studios has revealed the latest additions to the Project CARS 2 car list. It's a two-for-one deal this week, starring the road and race versions of Ford's reborn GT.
After 14 months of secretive development, the American automaker revealed its latest supercar to the world at the 2015 Detroit Auto Show. At the rear of the Ford GT sits a 3.5 liter EcoBoost V6 — the same engine used in the 2017 F-150. This EcoBoost pushes the 3,000 lbs supercar with 647 hp and 550 lb-ft of torque. With a top speed of 216 mph, anyone can see why this machine is worthy of inclusion to PCARS 2.
As stated above, the race version of the vehicle will also be making it's way to the game. In honor of the 50th anniversary of Ford's win at Le Mans in 1966, the Blue Oval prepared the race version of the GT for showtime. The road to Le Mans wasn't a smooth ride, though.
The race version's debut at the 2016 Daytona 24 Hours couldn't be considered a success with it's 31st place finish. Following that initial loss was a set of upsets at the next two rounds of the 2016 WeatherTech SportsCar Championship. Round four is where things started to look up for the Ford Chip Ganassi team thanks to a win at Leguna Seca.
One month later, it was time to put the GT LM to the test. At Le Mans, the Fords took pole, second, fourth, and fifth during qualifying. With the race underway, Joey Hand grabbed the lead with four hours to go and kept it. At the end, the Ford GT crossed the line, finishing first in the GTLM class with some controversy. Still, it was a win for the Ford Motor Company.
Players can get their own taste of victory once Project CARS 2 drops at the end of this year. If you're looking for more talk about the evolving car list of the game, head to this forum thread.
More Posts On...