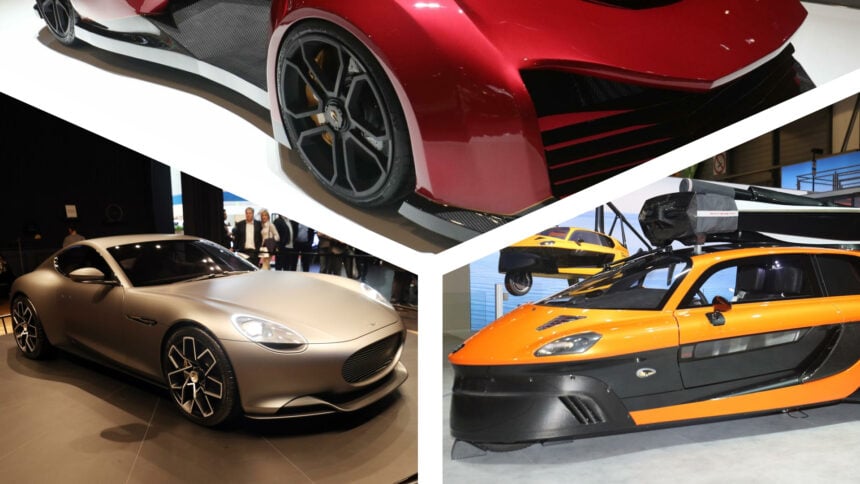 The press days are over, and the Palexpo has opened its doors to the public for the 2019 Geneva International Motor Show.
As usual, a large selection of flashy motors has stolen most of the column inches. From a yacht-money Bugatti to EVs producing more power than a wind farm, you'd be forgiven for thinking it's a show all about excess. Well, excess and SUVs. Lots and lots of SUVs.
But Geneva is also known for some of its weird and wonderful concepts, and motors from manufacturers you've never heard of. If you're heading to the motor show in the next ten days, here's some of the cars we think you should make a priority.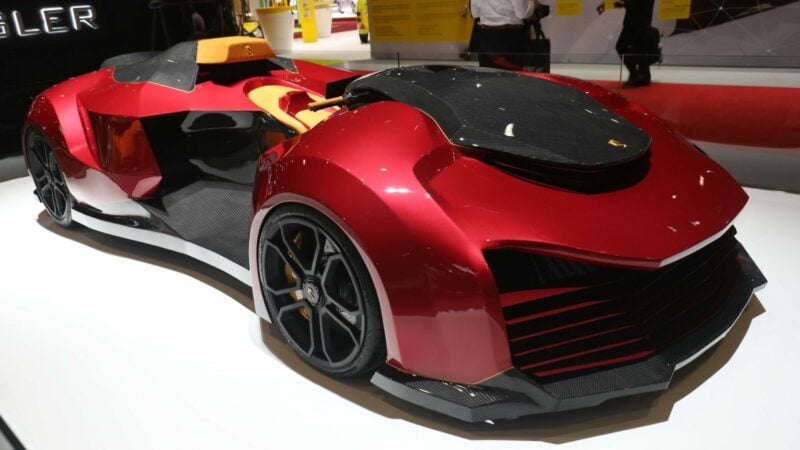 Engler FF Superquad
The Engler, from Slovakia, is actually not a car. It's part car, part quad-bike, and entirely terrifying.
You don't drive it, you ride it; it has handlebars for turning the front wheels. Engler makes the whole vehicle by hand, with its own aluminum frame and a body it makes from a titanium and carbon material that's mercifully known as carbonium. The whole vehicle weighs less than 1,800lb, despite coming in at over 15 feet long.
Why terrifying? Well, Engler uses an 850hp, twin-supercharged, 5.2-liter V10 to drive it along. 60mph will come up in 2.3 seconds, and the top speed is a quite literally eye-watering 217mph. It does at least have carbon ceramic brakes, but still.
Gumpert Nathalie
You might not remember Gumpert, but the German sports car manufacturer was a Nurburgring legend. Its Apollo track toy held bragging rights for years before big manufacturers like Porsche started showing up.
Although it never really went away, Gumpert's back again — and this time with a novel hydrogen concept. The Gumpert Nathalie (yes, really), uses a methanol to generate hydrogen for a fuel cell, providing electric power.
This drives four in-wheel motors, worth about 105kW (140hp) each. That might not sound like much, but the tube-framed Nathalie has carbon fiber body panels, weighing in at about 3,500lb in total.
With 563hp driving it along Gumpert claims a 0-60mph time well under three seconds, a top speed of 186mph and a range of almost 500 miles. Even better, you can refuel the car like an ordinary petrol vehicle providing there's a methanol pump, and it's cheaper than gasoline too.
Piech Mark Zero
If you're a car enthusiast, this name should sound familiar. Ferdinand Piech was the chairman of Volkswagen, and the Piech behind this car is his son.
The Piech Mark Zero is Piech Engineering's first vehicle, and it's a 400hp electric car. It uses two motors on the rear axle and one on the front but, most notably, Piech also claims a new type of battery that doesn't heat up during charging or discharging.
That, says Piech, means that you can charge with higher currents, and get the Mark Zero to 80% of its 310-mile range in just four minutes and 40 seconds. We're not sure on the math behind that, as it would require either a huge improvement in miles/kWh efficiency over the best cars on the market, a 1MW charging station (Tesla is only now rolling out 250kW superchargers), or a mix of both.
Nevertheless, it looks pretty awesome, like a Ginetta meets an Aston Martin DB9.
Kia Imagine
Kia's Imagine concept is another of the now-common electric vehicle concepts, but it's particularly noteworthy for one expert piece of automotive trolling.
The Imagine's dashboard features 21 — yes, 21 — separate information screens, lined across the entire width of the cabin. From any other seat but the driver's it looks like work of art, but they actually all knit together to form a single "screen-wall" for the driver.
This screen-wall carries all vital information, along with climate control, navigation, birds-eye cameras, vehicle data, phone and media systems, all at once. Aside from its usefulness, Kia points out that other manufacturers seem to be having a competition to see who can make the biggest screen, and this is its response.
Checkmate to Kia.
FIAT Centoventi
The Centoventi — that's "120" in the usual, impossibly cool Italian way of pronouncing numbers — celebrates 120 years of FIAT. All the usual buzzwords apply to this modern European city car concept, and it too is electric of course, but we're more interested in what the car might evolve into.
Squint a little and you'll almost certain see the influence that the FIAT Panda has on the Centoventi's styling. The dimensions aren't too far off the Panda's either, with the concept coming in at almost exactly the same length and height, albeit with around five extra inches in the wheelbase.
Although it's a motor show concept for now, we could be seeing something very similar wearing Panda badges in the next couple of years.
PAL-V Liberty
Where's my flying car? It's right here.
Unlike Boeing's attempt, which is more of a drone you can use for personal transport, the PAL-V Liberty is a genuine flying car — albeit with three wheels.
It's essentially a gyrocopter. A 99hp engine drives the road wheels, while a 197hp engine deals with the rotors. Converting it from one form to the other takes around 10 minutes, and you can take off or land anywhere within the aircraft's legal space requirements.
You won't get one cheaply though. This launch edition, in a limited run of 90 cars, will cost nearly $600,000 — although a cheaper "Sport" model is coming for just $350,000. PAL-V does include flying lessons in the price though, which is nice.
More Posts On...