Swedish developer Sector3 Studios is back with another RaceRoom Racing Experience teaser. This time around, it's not an under-the-radar track, but a deep cut from Porsche's motorsport history.
Say hello to the 964-generation Porsche 911 Carrera Cup, which took part in the eponymous series from 1990 to 1994. The 964-based series succeeded the 944 Cup that Porsche ran throughout the late '80s. Based on the rear-wheel drive Carrera 2, the 964 made do with a 3.6-liter flat-six and 260hp.
At a featherweight 2,469lb, the Carrera Cup lent itself to eye-watering speeds even by today's standards. The sprint to 60mph took 4.5 seconds and the car went on to a top speed of 167mph. Porsche driver Olaf Manthey — yes, he of Manthey Racing — took the inaugural series crown with only two race wins under his belt.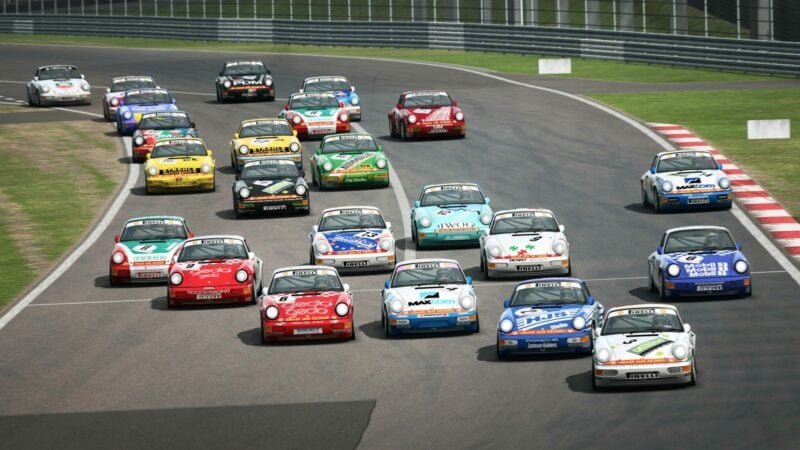 In the first year of the Porsche Carrera Cup, only 50 identical cars were produced for the 1990 season. That number more than doubled for the following season, with 120 cars now taking part. As of 2016, that number now sits at 170 Cup cars, divvied up among different one-make series around the world.
Players will soon have the opportunity to get behind the wheel of the legendary 964 Cup car in the next update.
It's also worth pointing out that the 964 is the second Porsche to join the R3E roster, following the Turbo RSR. With only one remaining, at least for the time being, we're willing to bet on it being the 935. As we said last December, its reign of terror is legendary all on its own.
We can't wait to take the 964 Cup car for a spin. Stay tuned for the full details on its imminent release.
See more articles on RaceRoom DLC.