There's a new supercar in town and it's from an unlikely part of the globe. Hailing from Mumbai, India, say hello to the Vazirani Shul (pronounced "Shool") which had its debut party at the 2018 Goodwood Festival of Speed.
While an Indian supercar is definitely interesting, the even more intriguing part is who it's saying helped design it. According to Overdrive, an Indian automotive website, the designer for the Shul is none other than Kazunori Yamauchi.
Yes, the Gran Turismo man himself is being touted as the designer of the Shul.
We know Yamauchi is no stranger to helping out an automotive company with its cars. Most notable is his work with Nissan and the R35 GT-R. During its design, Kazunori and his team at Polyphony Digital helped created the infotainment user interface.
He's also had input in various other creations for the Gran Turismo series including the Vision GT project.
Given Yamauchi's resume, it does seem a bit left-field that he'd go to a brand new company, especially one outside of Japan. Then again, getting a tie-in with a series that's clocked 80-million sales globally is a prudent marketing move by Vazirani.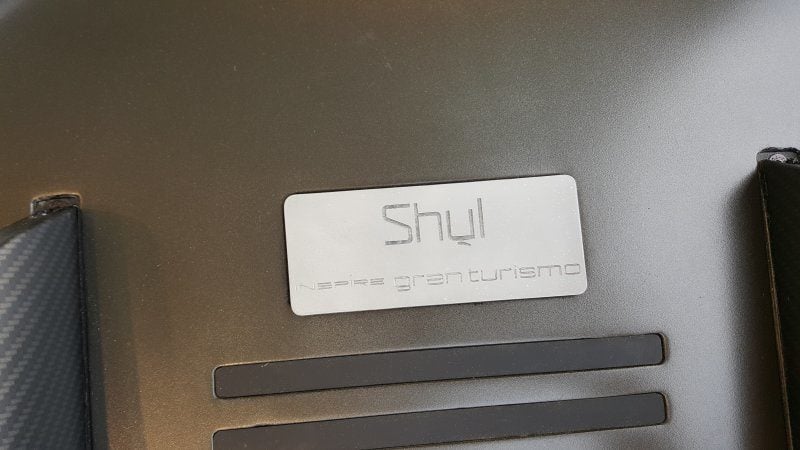 To get a better look at the car, we checked it out while looking at all the other fine vehicles at the GWFOS. Sure enough, the GT logo is on the bodywork of the car along with a plaque that reads "Inspire Gran Turismo".
GT isn't the only brand making an appearance on the car either. Along the rocker, there's also a decal for Force India. However, there's no indication of what involvement the F1 team had with the car either.
Believe it or not, the connection to Gran Turismo isn't even the strangest bit about the car – it's the powertrain. According to Vazirani, it uses something called a Micro Jet Turbine Electric Powertrain.
We aren't 100% sure what that means since there's currently no press release for the car. But according to Overdrive, it's an electric propulsion system that uses a mini turbine engine as a range extender. While that seems fairly complex, it also sounds cool — assuming it actually works.
Hopefully, Vazirani comes out with some more information regarding the car. And with Yamauchi's involvement, the Shul could end up in GT Sport.
If you want to watch the preview video for the car, as well as our own snaps of it, you can check them out below.
See more articles on 2018 Goodwood Festival of Speed and Kazunori Yamauchi.