Four years ago today, at Gamescom in Cologne, Kazunori Yamauchi announced the formation of the Vision Gran Turismo project.
It was a grand collaboration that few believed could become reality; vehicle manufacturers creating concept cars specifically for a racing game. However, Polyphony Digital had form on this front.
Sportswear brand Nike had created a futuristic concept car specifically for Gran Turismo 4. Citroen worked with PD to create the GT by Citroen for Gran Turismo 5 Prologue, and the car even became earmarked for production. The full GT5 game featured the Red Bull X1 – later called the X2010 – concept future formula car, from the pen of Adrian Newey himself.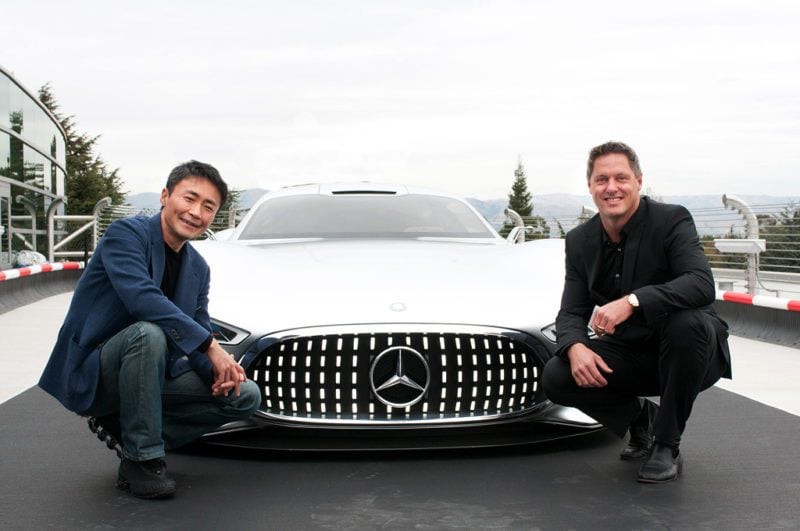 Just three months after Vision GT's announcement Mercedes became the first brand to reveal its car. When Gran Turismo 6 came out a few weeks later, the car — now called the AMG VGT — was available for free as part of the first update. Mercedes even included a racing version, perhaps a mite unnecessarily for a 576 hp, 5.5-liter V8.
The initial promise of the project was interesting. Eighteen manufacturers had signed on, for an initial 12-month project. It wasn't just car makers either, as fashion and design brands like Jordan and Nike hit the initial shortlist.
That first car was a hit too. Soon after Mercedes had unveiled its Vision GT car – with a full-size model to accompany it – a company in Florida announced intent to make a real version. J&S Worldwide Holding planned to make four, for $1.5m each, using an SLS as a base.
But the project soon stalled. A six month lull followed the two Mercedes, before BMW joined the fray. Unlike the Mercedes, which was a clean sheet design, BMW's Vision GT car seemed heavily production derived. Volkswagen followed shortly afterwards, announcing a Golf-based convertible.
The VW "Vision GTI" nearly made it three German cars in a row, but Mitsubishi — a brand not even on the original Vision GT list — beat it to the game. Its XR-PHEV concept was similar to other electric-hybrid concepts the brand had showcased at previous motor shows, and didn't feel as uniquely "Gran Turismo" as the others. It did prove to be the first of many alternative fuel Vision GT cars though.
Vision GT's greatest coup was just around the corner, however. July 2014 saw two different brands use the Goodwood Festival of Speed as a stage to unveil their Vision GT cars.
Aston Martin was first, with a bizarre supercar that almost foreshadowed its desire to build the Valkyrie. This 800 hp, four-wheel drive monster uses active wheel spokes to clean up airflow at high speed — a technology that doesn't exist yet, but which Gran Turismo facilitates.
Nissan's 2020 Vision GT followed. This car is less an out-there concept and more of a glimpse of the GT-R six years down the line. Unlike many Vision GTs, which are the work of brands' young designers, Nissan's saw input from the company's design chiefs. Its V6 hybrid KERS powertrain was the first in the Nissan-Williams link up which has since seen the release of the Bladeglider concept.
The next release was perhaps less successful. Gran Turismo 6 already featured Toyota's FT-1 concept car, supposedly the basis for the future Supra. Toyota's Vision GT was simply a more powerful, lighter, racing version of the FT-1 — perhaps more a look at the future of Super GT than of Toyota.
Subaru was next to the table, with its VIZIV. This concept bore the same name as several diesel-hybrid concepts that Subaru brought to motor shows from, but was resolutely a turbocharged petrol model.
The 12-month Vision Gran Turismo project was into its second year in at this point, and stood at just eight vehicles. Only five of those came from the original list of 18 marques, but with 30 brands now expressing interest it was clear the project had become longer term.
One of those new marques was next, and revealed possibly the strangest Vision GT car to date. Chevrolet opted to revive the Chaparral brand for its effort and the car, named the 2X in honor of Chaparrals of old, redefined the idea of a concept car.
While other Vision GT cars use technology in development for cars, the 2X is more on the theoretical space travel side. Its engine is a bank of lithium ion batteries that power a pulsed laser which strikes a cone shroud that creates shaped bursts of super-heated plasma to push the car along. We did say "strangest".
It was back to reality for the next Vision GT. The Infiniti came at the same time as the 2X, but this super-sleek coupe was thoroughly grounded. Another hybrid-electric model, the Infiniti concept simply built upon the brand's existing design language. Curiously it was the first Vision GT not to have a full-sized concept model version though this was later rectified.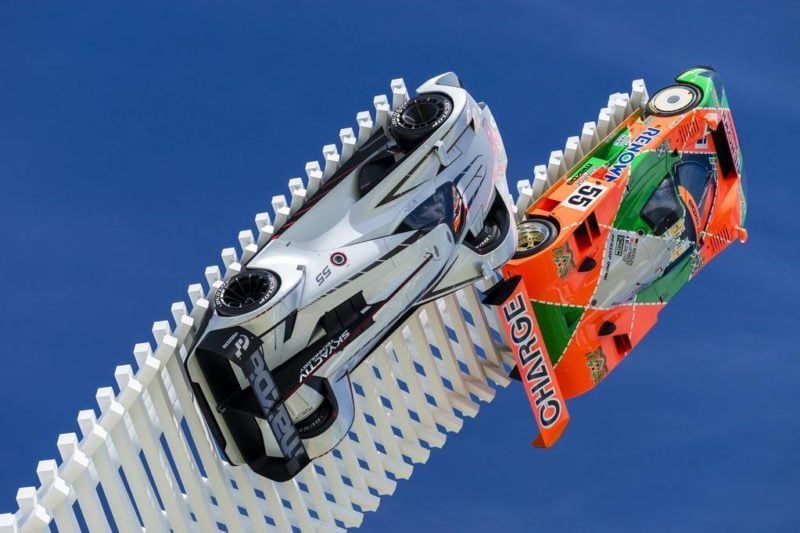 Mazda joined the show shortly afterwards, with an excellent Le Mans racing concept. The LM55, named for the No.55 787B that won Le Mans in 1991, would later go on to break the fourth wall of gaming in spectacular fashion in 2015. It joined that 787B on the central sculpture at the Goodwood Festival of Speed that summer, becoming the first wholly fictional car to do so.
Another couple of months passed before the next car, and one often overlooked. Mini's Vision GT flies under the radar as, like the BMW before it, it's so heavily based on a production model. It is, in essence, a 388 hp, coupe version of the Clubman estate and seems rather pedestrian compared to even those Vision GTs that aren't space ships.
March 2015 saw a glut of additions, from Lexus and, more notably, a revived Alpine brand. Alpine's model was of particular interest, as Alpine later announced it would be returning with a new road car after some years as an LMP2 manufacturer. Its Vision GT car heralded that, resembling a monoposto version of its new A110 sports car. It even included active aerodynamics, by way of turning vanes on the rear quarters.
The Lexus, though spectacular to look at, is a mere GT500 racer made flesh by comparison. It gave a glimpse of the LC road car and the RC F GT3 car, but ultimately fell into the same bracket as its FT-1 sister car.
Volkswagen came shortly after with a second Vision GT car. This version was even more of a gussied-up Golf than its previous effort and, along with the Mini, perhaps the most realistic of the fleet.
Few manufacturers do concept cars quite so well as Peugeot, and it was a surprise it hadn't contributed before June 2015. Its effort is a straight-up, 900 hp supercar, much in the same vein as the Aston a year previously. Strangely, the car seems to have no side windows, which might make road use a bit awkward.
The last Vision GTs to date arrived in July 2015, courtesy of Dodge under the SRT brand. Like American counterparts Chevrolet, the SRT Tomahawk models are amongst the most controversial simply due to their outlandish nature.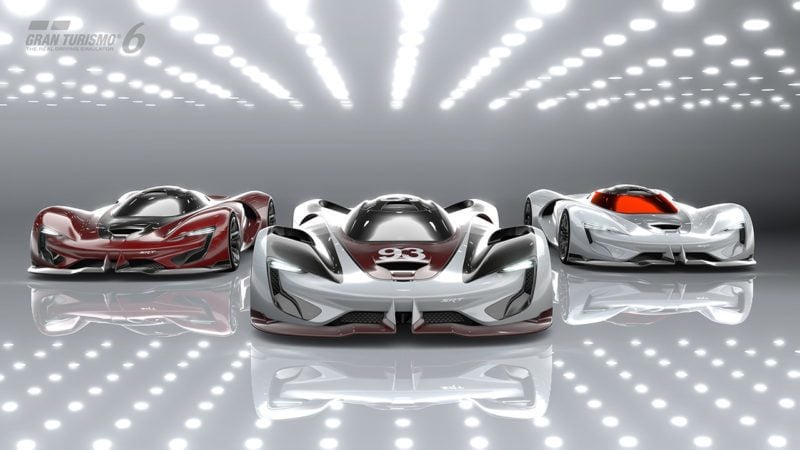 These three cars vary from 1,000 hp to more than 2,500 hp, and use active aerodynamic panels all over the vehicle to generate impossible levels of grip and roadholding. They even came with special racing G-suits, in order to keep your avatar alive under enormous stress.
Little did we know when we spoke to Kazunori Yamauchi at Goodwood in 2015 that no further Vision GT cars would come to Gran Turismo 6.
Since then we've seen three further Vision GT cars, both of which will be included in GT Sport. Hyundai revealed an LM racer similar to Mazda's, promoting its new N performance vehicle division. More surprising was Bugatti's attempt, which revealed a racing version of its Chiron road car before it even revealed the Chiron itself.
A third car, the Fittipaldi EF7, may be joining the fold. Emerson Fittipaldi himself intends to race the car with his children in the near future.
The Vision GT project car count now sits at 22 — not even half way, according to Yamauchi. Indeed several manufacturers from the original list, including Audi and Honda, are yet to show us what they can do. A two-year break, in part due to the end of update support for GT6, may not have helped.
Nevertheless, the project won Gran Turismo a Japan Car Design award in 2016, recognizing its contribution to vehicle design.
GT Sport is now just eight weeks away from shelves and promises more vehicle DLC after launch. The future of Vision GT seems no less interesting than its past.
See more articles on Vision GT.