Audio. It's an integral part of sim racing, but it's safe to say it often takes a backseat to visuals, physics, and input devices.
But a great aural experience can add so much to a sim drive. It can act as a rear-view mirror, giving you an idea of who's on your tail — even which side of it. It also lets you get an even better idea of what a car's personality might be like in the real world. That unmistakeable shriek of a 787B at full chat down the Mulsanne? A good set of headphones will put you in the car.
That brings us to Thrustmaster's new T.Racing Scuderia Ferrari Edition headset. With a coat of Rosso Corsa paint and the prancing horse emblem front and center, these racy looking earpieces promised to improve my gaming experience. I took them for an extended test drive to see just how much they could deliver.
Value
The headphone business is a billion-dollar industry. They come in all shapes and sizes too, from cheap disposables on airlines to the sort of high-end fare that costs as much as an entire house.
Thankfully, the T.Racing's sticker price isn't straight out of Maranello. Coming in at $99.99, the headset is Thrustmaster's mid-tier offering.
The head band and cups both come trimmed in leather, with an inch-think layer of memory foam underneath.  There's no frills here: it's not wireless, and there's no user profiles or any other frippery. That keeps the price under the important triple-figure mental barrier.
The 50mm drivers deliver up to 116dB. Those are similar performance stats to the Razer Kraken Pro, one of the T.Racing's main competitors. (The Kraken Pro occupies the same price point, no less.)
The T.Racing comes with an adapter for PC audio cards, and a detachable mic. With a 10ft cable, it should easily work with any sort of rig setup you've got too.
Compatibility
Sure, Apple may hate it, but the trusty 3.5mm headphone jack is still pretty universal.
That means the T.Racing works with just about anything you could possibly want it to. For my purposes that meant PS4 (Pro) and XB1 (X).
Without Bluetooth or its own batteries, using the T.Racing is as simple as plugging it in. I did have to switch my PS4's audio to only come through the headset, since the cups do such an effective job dampening outside noise. There were never any hiccups, and no noticeable lag.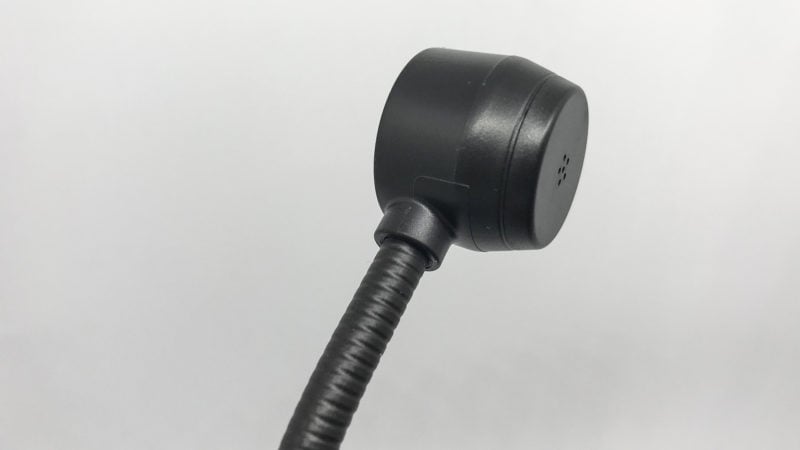 Features
As I hinted at earlier, the T.Racing doesn't come packed with features, but the ones it does have, it mostly nails.
The size adjuster was the first piece I played with. Loosening and tightening the screw allows you to fine-tune the fit, and know that it's not going to move once you've set it. It's a small tactile impression, but it's important.
The on-cup volume control is also quite good. I really appreciate the ease of use: reaching up to my left temple to adjust on the fly was a cinch. Being a picker of nits, I'd like a bit more resistance to the movement, but the lack of any indented levels means, just like the fitting, volume can be tailored right to your exact needs.
In terms of comfort, I personally ran into an issue with the seam on the inner lip of the cup irritating my ear, no matter how I adjusted it. Friends and family that took it for a test drive never reported the same issue though, so I'm forced to believe it's my own features that caused it. Keep this in mind, fellow tiny eared folks.
The unidirectional mic is very clear, and does a decent job removing background noises. I tested it on a few phone calls in addition to gaming lobbies. My voice was always at the fore, but the mic's sensitivity means even what I thought were relatively minor noises would transfer. No worries: an inline controller features mic volume adjustments as well as a mute switch.
Time to talk about the reason you're reading this: the sound itself. I started the test in GT Sport, with the banshee 787B. The T.Racing doesn't pack a ton of bass, making Mazda's Le Mans-winning prototype a good starting point. Personally, I prefer the more balanced tone Thrustmaster's gone with here, but if you like teeth-rattling lows, it might not be the headset for you.
The 787B's scream came through loud and clear. The T.Racing also highlighted the atmospheric side of Sport's sound design. Watching my replay, the rotary shriek bounced off the trackside objects, placing me more accurately in the environment.
I moved over to a road-going Jaguar F-Type to see how the Thrustmaster equipment handled a burbly V8. There was more muscle there, with a satisfying growl in the low-range. I stuck with the theme and popped over to Project CARS 2, trying the mean AMG GT R on for size. This was even better, with more pronounced changes between the different driving views. The sound noticeably changed in direction as I looked around the interior of the Merc, always highlighting that muscular V8 up front.
Switching back to Group C — a Jaguar XJR9 — brought a whole new definition of angry. A massive wall of V12 fury was ever-present behind me. It was awesome.
Both Forza Motorsport 7 and Horizon 4 took on testing duties on the Xbox One X. Being able to utilize Dolby Atmos on the system was a huge boon, improving the spatial experience of both games. It really came to the fore in the recent Fortune Island expansion, as the new location's extreme weather conditions gave the T.Racing a chance to flex its muscles.
I also tried the headset with non-racing games. For those curious, I felt even more a part of a galaxy far, far away in Star Wars Battlefront II. Laser blasts zoomed by with a crispness — and the headset made it easier to suss out nearby hidden enemies.
Quality and Finish
Thrustmaster's produced a very convincing facsimile of the Scuderia's F1 headsets. The right shade of red, the Prancing Horse — the only way it could be more authentic was if Maurizio Arrivabene was in my ear during a pit stop — probably telling me my last stint was a bit crap.
I put the T.Racing through weeks of regular use and it felt just as robust as I typed this up as it did when it arrived. All of the important touch-points feel high quality, and like it'll last for years. It certainly feels worth the price of entry.
There's no carrying case, which means transporting it might be a little dicey, but I can't imagine that coming up too often. The T.Racing isn't what you'd call inconspicuous, meaning you'd need to be a pretty serious tifosi to use it for the daily grind.
Verdict
Thrustmaster's long been known for its flight sticks and racing wheels. With the T.Racing, it's brought the same combo of attention to detail and a strong price point that's made it such a major player in the sim racing world.
No, it isn't particularly high-tech. It doesn't come with any surprising or revolutionary features (like the T-GT). But the T.Racing's strength is its straight-forward focus on a better-sounding experience. Clamp it down on your dome and every single racing game experience will be better as a result. Sim racers finally have a headset choice that doesn't look like it belongs on a 350lb space marine.
Thrustmaster T.Racing Scuderia Ferrari Edition
A solid sound in a look straight off the F1 pit lane. The T.Racing is a great mid-tier option for sim racers wanting a more immersive aural experience.
Learn more about
how our rating system works
.
See more articles on Thrustmaster.