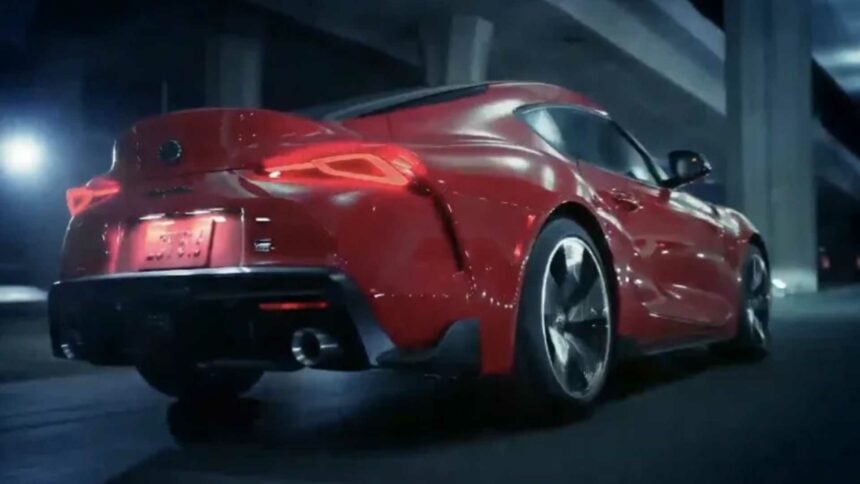 Perhaps the most anticipated car of 2019, the Toyota Supra is almost with us. Toyota is due to unveil the car in full at the North American International Auto Show in Detroit on January 14.
However, not everyone got the memo and Toyota has sprung a leak. The Supra did share its development with the BMW Z4 after all, and BMW has been leaking like an old MX-5 recently…
The fault lies with Toyota Mexico. It posted the Supra's launch video to its Twitter early Friday. The tweet didn't last long, but it was long enough for some eagle-eyed viewers to grab the video for themselves. It shows the Supra in motion from multiple angles, finally adding together all of the snatched spy shots we've seen over the last few months:
Although the 720P video above lacks some of the detail we'll see in the deluge of press shots next week, it does reveal the car's full form for the first time. It confirms many of the larger styling choices we've seen on the camouflaged version. In profile, the "A90" Supra has the cabin far further to the rear than its predecessor, making the nose look longer by comparison.
The video also doubles down on the car's sound, from a previous Toyota teaser. That comes courtesy of a three-liter, straight six, just like both of the car's previous standalone models.
Of course the clip doesn't quite reveal all. Monday's official unveiling will give us details on the car's interior, specifications and — importantly — pricing.
More Posts On...