On January 23rd Gran Turismo was presented with the Golden Marker Special Award at this year's Japan Car Design Awards ceremony being held at The Gallery Too in the Minato district of Tokyo, Japan.
Announced in 2013, "Vision Gran Turismo" is a special collaborative project aligning Polyphony Digital and Gran Turismo with leading automotive manufacturers, design houses, and other leading global brands for unique in-game content. The content, offered as free downloadable content and then "gifted" to players, allows designers to express creative freedom without concern.
The first project car released was the extreme-proportioned 585 horsepower, V8 bi-turbocharged Mercedes-Benz AMG Vision GT. The project of course continued moving forward and produced some notable highlights as a result. One of which being Mazda's 787B-inspired LM55 being front and center on the Goodwood Festival of Speed sculpture alongside none other than its ancestor, the Le Mans-wining 787B.
Another notable highlight is Bugatti's stunning Vision GT car that was revealed in full at last year's Frankfurt Auto Show. Bugatti's project car is notable as it has been rumored to inspire the Chiron, the 1500 horsepower W16-powered successor to the Veyron which is set to be revealed to the world at the Geneva Motor Show this March.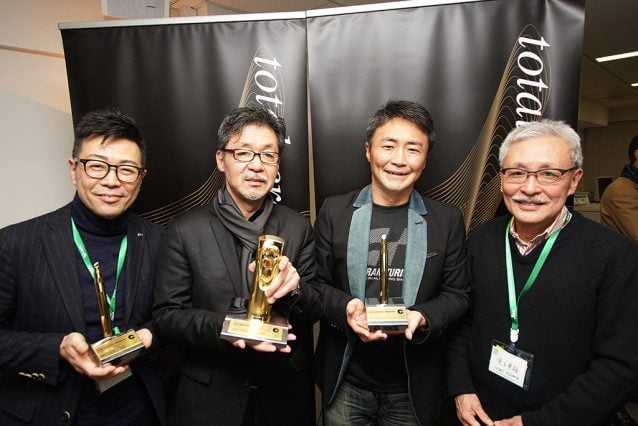 Taking note of these particular highlights and it should come as no surprise that the "Vision Gran Turismo" program has inspired the automotive industry, as outlined on the official Gran Turismo website celebrating the award:
"According to the judges, Gran Turismo was recognized for working effectively with the world's most reputed brands since 2013 and "being an instrument to teach how to drive a car for those who are below the legal driving age" and "for educating about cars in general." They also noted how the popular driving game provided opportunities to car designers around the world to express their wildest imaginations, while broadening the vision of the market."
2015-2016 Japan Car Design Awards
The Award Winners
– Golden Marker Award for Production Cars: Mazda CX-3
– Golden Marker Award for Concept Cars: Yamaha Sports Ride Concept
– Golden Clay Award: Mazda RX-Vision
– Golden Marker Special Award: Gran Turismo
The Judges
Head Judge: Kyoichi Yamaguchi (Motor Journalist)
Judges: Hideo Kodama (Car Designer), Tsutomu Aoto (Car Designer), Kiyokazu Maki (Coachbuilder), Noriyoshi Kurihara (Car Designer), Masatsugu Arimoto (Design Journalist), Toshiaki Sato (Product Designer), Hayato Furusho (Freelancer Writer), Hironobu Matsunaga (Car Styling Chief Editor).
More Posts On...
The original comments for this post are no longer available.