The Volkswagen ID R is already a record-breaker, but the brand is hoping to add to its list of honors.
VW built the time attack car with a single goal: to beat the electric record at Pikes Peak. Yes, the ID R is an electric time attack car, and standard bearer for VW's "ID" electric sub-brand – which includes road cars, vans and campers, and even a dune buggy.
The ID R met its target with some aplomb. With Romain Dumas at the wheel it not only beat the electric record at Pikes Peak, but smashed the overall record by more than 16 seconds. Now it's got another record in its sights: the Nurburgring.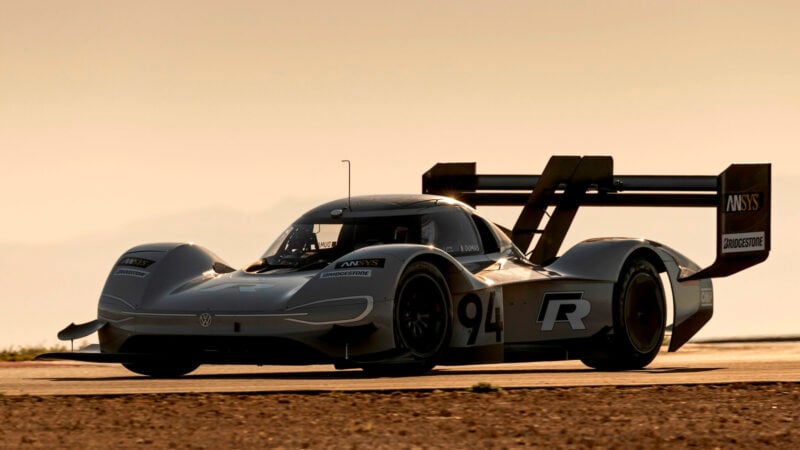 Moving from arguably the world's most famous hill climb to its most famous circuit presents different challenges. Electric power is ideal for the thin air at 14,000 feet, but less relevant down near the ground. That giant wing which proved useful to move what little air there was around will only be a hindrance in Germany too, where top speed is key on the mile-long Dottinger Hohe straight.
Volkswagen is working on adapting the ID R for the conditions at the 'Ring. It's testing new aerodynamic packages in the wind tunnel, while Dumas — a four-time N24 winner — is getting some laps down at a test facility in Spain.
Physically little has changed on the car. It still uses the same, 500kW (670hp) twin-motor setup, which will accelerate the 2,200lb car to 60mph in 2.25s. The numbers don't seem all that impressive on paper, but it had the measure of Peugeot's 1,000hp/ton 208 T16 on the race to the clouds.
While Volkswagen is aiming only for the electric benchmark in Germany — the NIO EP9's 6:46 lap — we wouldn't be surprised to see it aiming a little higher. It seems unlikely it'll get close to sister brand Porsche's 919 Hybrid, but never say never…
See more articles on Volkswagen.