http://www.youtube.com/watch?v=8padDk9ZakE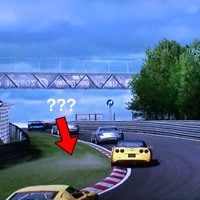 Here's an interesting video from GT5's latest appearance at Gamelab in Spain last weekend: watch the dust kicked up by the cars as they clip the inside of the curb around 1:20. As you can see, it appears to be quickly whisked away by a strong breeze. This is quite different from what we saw when GT5's new Nurburgring circuit was officially revealed back in May – watch the video below of the same car from the same camera angle, and you'll see a puff of dust rise straight up into the air, undisturbed.
With that said, the wind effect appears to be somewhat over-exaggerated, and you'll notice that nothing else in the environment is moving appropriately (most obviously, the trees). So, is this just an errant bug? Or is it, perhaps, a tiny sample of GT5's weather effects that accidentally slipped into this demo? I'm not convinced just yet, but it's a curiosity that I hope we will be able to learn more about very soon.
Thanks to sharp-eyed reader "Ringmaster" for sending this in!
More Posts On...
The original comments for this post are no longer available.