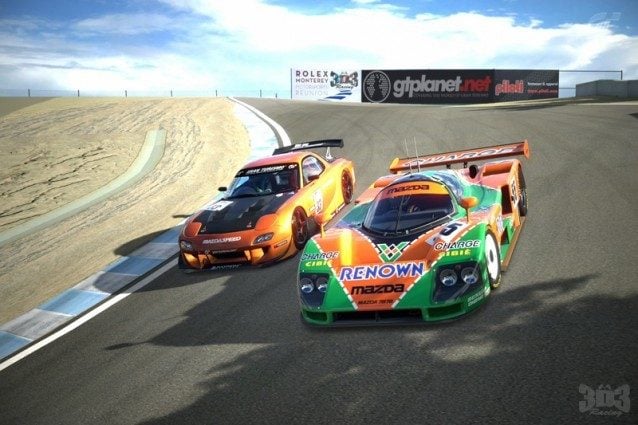 GTP_Registry to host Laguna Seca Enduro!
GTPlanet's Official Online Racing Registry is hosting a 2.4 Hour online endurance race at Mazda Raceway Laguna Seca on Sunday, April 29th.  Fittingly, the race will feature 2 classes of Mazda race cars at their namesake track.  The legendary 787B, winner of the 1991 24 Hours of Le Mans, has been selected at the LMP Class car, while the DLC provided RX-7 Touring Car will be the GT Class runner.  Entrants will have their choice of either car, with finishing order being recorded for the overall event and each respective class.  This event is building on the success of our very first endurance feature at Spa Francorchamps, on March 25th.
Check out the main event thread for race specifics and discussion.  Qualifying is open until April 22nd for LMP entrants and until April 26th for GT Class drivers.  Two support races of approximately 1 hour each will take place on Saturday, April 28th.  Please keep in mind that only qualified, GTP_Registry Members are allowed to participate.
Next Weekly WRS Online Event
WRS Online Week 32 will take place on Wednesday, April 18th, with convenient start times for members in both the European and North American regions.  This week's combo is a reprisal of a classic WRS event, Week 34's British Invasion, featuring the '10 Jaguar XKR Coupe at Daytona Road Course.  Again, only qualified GTP_Registry members can participate.  If you're already in the registry and want to join us, visit the thread and sign up for this week's event!
WRS Week 62 is Posted!
The next WRS Time Trial is up and running, with several GTP_Registry members already taking part.  This week's race features a highly tuned version of the '08 Mercedes Benz C63 AMG, on a classic original circuit, Grand Valley East.  This highly challenging event requires many power upgrades, and allows for all other tuning parts to be installed, including race suspension and race transmission.   Participants are free to select their own tune, or they can check out our GT5 Tuning Forums to look for something that will suit their needs.
The deadline for this week's race is Monday, April 23rd,  and only qualified, GTP_Registry Members are allowed to participate.  If you are eligible and decide to run this week's event, be sure to post your splits in the thread, to compare to your fellow drivers and see how you stack up on our leaderboard.
Like what you see and want to join the GTP_Registry?  Check us out here!
More Posts On...
The original comments for this post are no longer available.