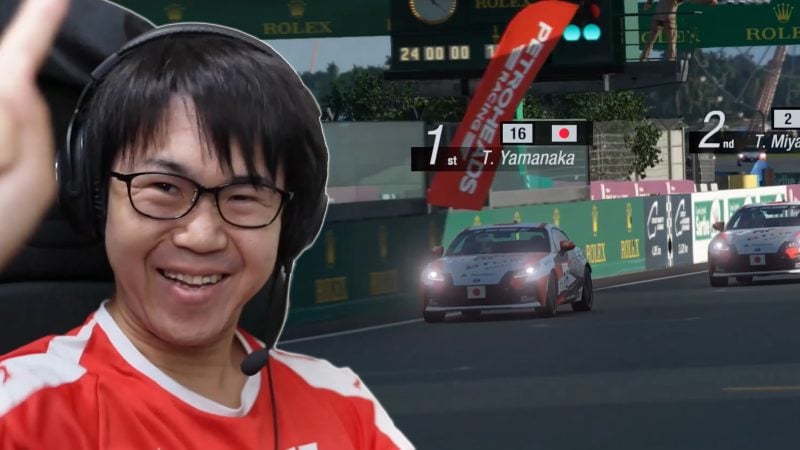 Japan's Tomoaki Yamanaka has taken victory in the 2021 Toyota Gazoo Racing GT Cup, beating defending champion Takuma Miyazono in a dramatic last-lap battle.
It's Yamanaka's second title at World Finals events, having picked up the Manufacturer Series crown — also with Toyota — at Monaco in 2019, alongside Igor Fraga and Rayan Derrouiche.
This year's version of the championship was the first to expand from the new A90-generation GR Supra to other vehicles in the Toyota brand in GT Sport. 21 players qualified for the finals through seven rounds of online competition, and three additional drivers coming through Toyota Gazoo Racing activities in Asia.
The finals tournament saw the field split into two seeded 12-driver grids running identical races at a wet Red Bull Ring in the GR Yaris. Each race's top eight finishers then qualified for the final, with drivers using the new GR86 at Circuit de la Sarthe.
Semi-Finals
Yamanaka set his stall out early by taking pole position in Semi-Final A, but by the finest of margins. The Japanese driver beat Nations Cup points leader Valerio Gallo to the head of the grid by just a thousandth of a second; in fact the front five were covered by less than two-hundredths.
Probably the defining incident in the race came early on, with Manufacturer Series champion Daniel Solis making an error under braking for turn four as he attempted to move from ninth up into a qualifying spot.
Despite sending himself off the track and down to last, the stewards gifted him an additional two-second penalty for the contact with Takuma Sasaki. That allowed Nathayos Sirigiya to regain his starting spot of eighth, and the squabbling among the back five also let the lead pack escape somewhat.
Gallo found a way past Yamanaka to take the lead, before Yamanaka ended up behind Lucas Bonelli following an optimistic turn three move from Giorgio Mangano which pushed the Japanese driver out wide and bumped the Brazilian forward. The stewards hit Mangano with a one-second penalty which would eventually see him fall to sixth.
Coque Lopez and Igor Fraga took fourth and fifth, finishing where they had started, with Sasaki and Sirigiya taking the final two spots.
Semi-final B saw a new star emerge in the form of 16-year old Japanese driver Rikuto Kobayashi. He set the fastest qualifying time of all, beating Yamanaka's A race pole position time by a full quarter of a second. Miyazono set a similarly blistering pace but had to settle for second.
Baptiste Beauvois, one of the early favorites given his two race wins in the Olympics, made an error though, and with a penalty for exceeding track limits would start in 11th. It proved costly as, despite closing in on Kevan Pounder through the final lap, the French driver wasn't able to make the move for 8th and would miss out.
Up front though it was Kobayashi's race, as the youngster pulled out a gap that at times hovered around the second mark. What looked like a carbon copy of Solis's error in the A race from Jose Serrano in fact proved to be a perfectly judged overtaking move, as the Spanish driver sneaked past Miyazono for second.
Thomas Labouteley and Ben Chou finished in the grid spots of fourth and fifth after quiet races, while Andrew Lee and Carlos Salazar switched spots, ahead of Pounder in that final qualifying place.
Final
Semi-final finishing order determined the final start spots, with the fastest semi taking odd grid slots and the slower one taking evens. That meant semi-final B winner Kobayashi would take pole position again, with Gallo alongside, Serrano in third ahead of Bonelli, and so on back to Sirigiya in 16th.
As a six-lap race with a mandatory pit stop, but no tire change or additional fuel required, it seemed like the strategy would be an obvious pair of three-lap stints, but the drivers had very different ideas.
After falling two spots in the early exchanges, Lopez dived into the pits at the end of the first lap, emerging some ten seconds behind the rest of the field — which was quickly separating into two packs, consisting of the front seven and everyone else.
The majority of the field opted for a second-lap stop, which saw Miyazono emerge as the leader of the pitting cars, ahead of Yamanaka and Labouteley, while Lopez's clear second lap brought him up onto the tail of this trio.
Bonelli and Kobayashi — who had slipped to second behind Gallo at this point — were next to stop on lap four, and it soon became clear that stopping early had been the right tactic. From a solid lead, Kobayashi emerged only third, with his countrymen ahead of him.
That became even more apparent when the lead trio of Gallo, Serrano, and Sasaki finally pitted on lap five. The Italian driver's comfortable lead had turned into sixth place after an otherwise flawless run.
With one lap to go it was Miyazono leading from Yamanaka, with Kobayashi in third, but it wasn't going to stay that way. The long straights at Circuit de la Sarthe mean plenty of slipstreaming opportunities, and the front two would swap places three times on the final lap.
However it was only the final change that counted. Coming around the final right-hander into Indianapolis, Miyazono attempted to defend the inside but Yamanaka swept around the outside to take the lead through the inside of the sharp left.
Only half-chances remained, but Miyazono couldn't fight back. Yamanaka would win by just under 0.4s, with an impressive Kobayashi only a tenth further back in third.
In both of its previous seasons, the winner of the Toyota event has gone on to become Nations Cup champion. We'll have to wait until Sunday to see if that becomes three, but in the meantime Yamanaka is in an excellent position to retake the Manufacturer Series with Toyota on Saturday — so don't forget to tune in!
See more articles on 2021 FIA GT Championship, 2021 FIA GT Championship World Final, and Toyota.