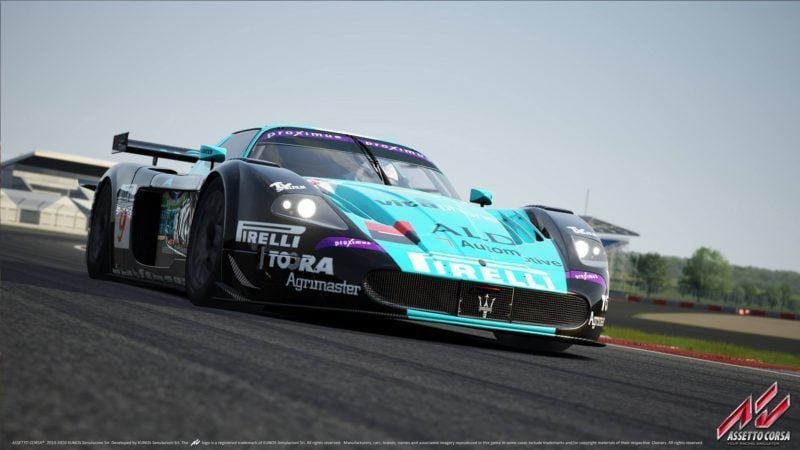 PC players of Assetto Corsa will receive another shot of cars in the driving sim in only a few days. After the surprise announcement last week, Kunos Simulazioni has released additional shots of three of the incoming race cars.
Up first is the Maserati MC12 GT1. A car that should be very familiar to fans of early-naughts sports car racing, the MC12 was crafted from the bones of the Ferrari Enzo. Maserati completed a short run of road-going models to satisfy homologation rules before the car began its on-track domination. In the 94 GT Championship races the MC12 took part in, it won 40.
We move from one mid-engined race car to another, in the form of the Audi R8 LMS. The second generation of Audi's production-based racer is one of the most common GT3-class vehicles out there. Over 200 customers have taken delivery of an R8 LMS since the program began, and the latest model can be yours for a little over $400,000. That makes the digital version quite a bargain, then.
The final part of the trio is vastly different than the others. Audi built the TT RS for a specific class of the VLN series, and in an unorthodox move, converted the car to front-wheel drive. That's right: despite looking like an evolution of the wild DTM TTs from a decade previous, this car sends its power to the front. With the five-cylinder engine pumping out 380 hp, this car should be quite the handful.
The Ready to Race car pack launches May 18 on Steam. Console racers haven't been forgotten about: Kunos recently reiterated what PS4 and XB1 players can expect in the upcoming 1.14 update. Stay tuned for more Assetto Corsa news as we get it.
More Posts On...